ELECTIONS: College students mobilize to exercise voting rights
College students launched a crowdfunding campaign to charter buses to take students home to vote for the presidential and legislative elections on Saturday, saying the campaign would help young people participate in democracy and exercise their rights.
Student association leaders from National Taiwan, National Chengchi and National Yang-Ming universities as well as Mackay Medical College yesterday told a news conference in Taipei that they raised funds to pay for students to travel home so they can to boost voter numbers.
A majority of college students study away from home and the cost of bus fare and travel time could deter people from going home to vote. The campaign was organized to help young people exercise their political rights, the leaders said.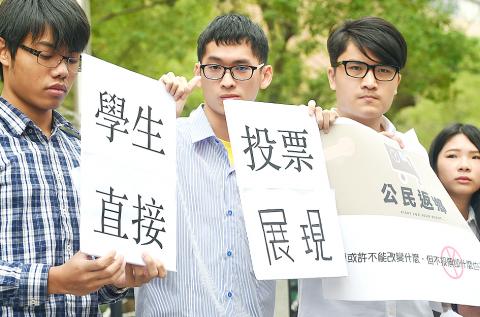 College students in Taipei yesterday hold signs encouraging young people to take advantage of special transport arrangements to go home and vote in other parts of Taiwan.
Photo: Liao Chen-huei, Taipei Times
"It is a display of direct democracy that students go home and vote. It allows young people to express their voice and exercise their rights," National Chengchi University student association president Chen Yi-lin (陳億霖) said.
About 145 charter buses with a total capacity of 2,500 seats have been offered free of charge or at a discounted price to students at various locations. Buses are scheduled to depart on Friday after the exam week, Chen said.
The campaign expanded on a similar 2014 crowdfunding campaign organized by Taiwan Citizen Union that financed students to return home and vote. This year's campaign is expected to see a 10 percent increase in the number of voters who return home, Chen said.
National Yang-Ming University student association president Chen Chia-ching (陳佳菁) said that Taiwan has 18.81 million registered voters and 5.11 million of them are aged between 20 and 34, while first-time voters account for 6.8 percent of total voters, making the younger voter group a key player in determining election outcomes.
Asia University student and member of the Independent Youth Front Liu Hui-chung (劉惠中) said about six out of 10 voters aged between 20 and 40 turned out for the last election, but young voter turnout increased to more than 70 percent in the nine-in-one elections in 2014, and the 10 percent increase was what overturned the traditional political territory.
Comments will be moderated. Keep comments relevant to the article. Remarks containing abusive and obscene language, personal attacks of any kind or promotion will be removed and the user banned. Final decision will be at the discretion of the Taipei Times.