PFP trails KMT with one percentage point: survey
Chinese Nationalist Party (KMT) heavyweights attended the last New Year flagraising event of President Ma Ying-jeou's (馬英九) second term yesterday, a day after a poll found that the KMT's ticket for the presidential election is less than 1 percentage point ahead of that of the People First Party (PFP), which is traditionally considered to be pan-blue.
Vice President Wu Den-yih (吳敦義), KMT Chairman and presidential candidate Eric Chu (朱立倫), Legislative Speaker Wang Jin-pyng (王金平), Deputy Legislative Speaker Hung Hsiu-chu (洪秀柱), Premier Mao Chi-kuo (毛治國) and New Party Chairman Yok Mu-ming (郁慕明) were present at the event.
When greeting Hung, both Ma and his wife, Chow Mei-ching (周美青), gave her a hug, which Hung later said was to amiably show how much they care for her.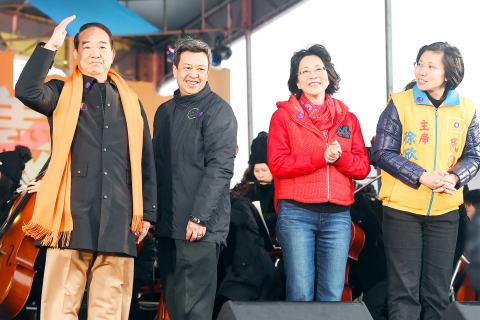 From left, People First Party presidential candidate James Soong, Democratic Progressive Party vice presidential candidate Chen Chien-jen, Chinese Nationalist Party (KMT) vice presidential candidate Jennifer Wang and Republican Party vice presidential candidate Hsu Hsin-ying take part in a flagraising ceremony and concert in Taipei's Dajia Riverside Park yesterday.
Photo: Liao Chen-huei, Taipei Times
When asked by the reporters about the seeming "awkwardness" of the embrace between her and Ma, Hung said it was because "prudence should be observed for [interactions] between men and women."
Separately, PFP presidential candidate James Soong (宋楚瑜), along with Democratic Progressive Party (DPP) vice presidential candidate Chen Chien-jen (陳建仁) and Chu's running mate, Jennifer Wang (王如玄), attended the flag-raising event held by the Taipei City Government.
Soong said he would continue to seek the support of the voters in the next two weeks, when asked about closing the gap with Chu in polls.
The final poll, conducted and released on Thursday by the Taiwan Indicator Survey Research before the Jan. 16 presidential and legislative elections, showed that the DPP ticket still leads with 40.1 percent, while the KMT ticket garnered 17.5 percent support and Soong and his running mate stood at 16.8 percent.
The law prohibits the release of poll results within 10 days before the election.
The survey also found that the DPP, the KMT, the PFP and the New Power Party, with 33.8 percent, 21.5 percent, 6.2 percent and 6.1 percent of support respectively, could all secure legislator-at-large seats.
"I will continue to express my views in the debate" regarding the young generation's future, his falling out from the blue-green political struggle and the stabilization of the cross-strait relationship and "explicitly explain my ways of achieving them," Soong said.
"Taiwan needs more than a politician who is all talk and no action," he said.
Additional reporting by CNA
Comments will be moderated. Keep comments relevant to the article. Remarks containing abusive and obscene language, personal attacks of any kind or promotion will be removed and the user banned. Final decision will be at the discretion of the Taipei Times.