Lee Teng-hui walks his granddaughter down aisle
Lee Kun-yi (李坤儀), a granddaughter of former president Lee Teng-hui (李登輝), married James Chao (趙贊凱) yesterday.
The groom, who is president of model management company Catwalk Production House Corp's Hong Kong branch, arrived at the former president's residence in Taipei to pick up the bride, according to traditional Taiwanese wedding custom.
The couple then held a Christian ceremony at Taipei's Jinan Presbyterian Church, at which the former president walked his granddaughter down the aisle and handed her over to Chao.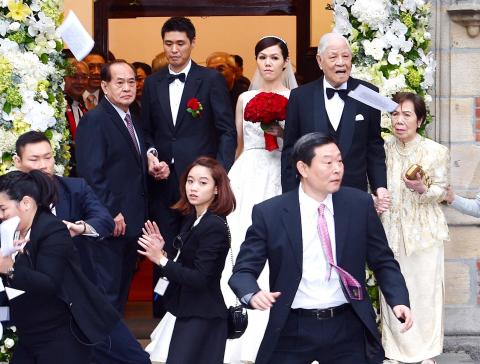 Security guards react as a protester attempts to throw papers at former president Lee Teng-hui, back row second right, following the marriage ceremony of his granddaughter, Lee Kun-yi, back row third right, in Taipei yesterday.
Photo: Lo Pei-der, Taipei Times
Lee Kun-yi is the daughter of the former president's eldest son, Lee Hsien-wen (李憲文), who died of sinus cancer in 1982.
The 92-year-old Lee Teng-hui said he was happy that his granddaughter has gotten married, adding that although he is reluctant to part with her, he has to let go and allow her to build her own family.
He also said he hopes to have great-grandchildren soon.
The day was marred by a protester who allegedly threw a pile of paper at the former president while he was having his photograph taken with the newlyweds after the ceremony at the entrance of the church.
The protester, later identified as pro-unification activist Yang Szu-sheng (楊思聖), was heard loudly accusing the former president of promoting "Taiwanese independence" and shouting: "Long live the Republic of China."
The paper missed the former president and security personnel quickly put a quick end to the disturbance.
Lee Teng-hui's response to the disturbance was noteworthy. Though the event was not the first time the former president has been confronted by protesters, moments after he left in his car, he asked his bodyguard to fetch a copy of Yang's protest material, apparently having taken an interest in the demands.
He was quoted as saying that he would read Yang's demands closely, adding that he believed the protester "is mistaken in his thinking."
Lee Teng-hui's office director Wang Yan-chun (王燕軍) said that the former president was not angry about the matter, but felt slight regret.
Wang added that the event's security "needed improvement."
The couple were to hold a wedding banquet at the Mandarin Oriental Taipei hotel yesterday evening.
Comments will be moderated. Keep comments relevant to the article. Remarks containing abusive and obscene language, personal attacks of any kind or promotion will be removed and the user banned. Final decision will be at the discretion of the Taipei Times.