Tsai slams KMT's 'mudslinging'
CAMPAIGN TRAIL: The DPP chairperson spoke at a rally in Sijhih for New Power Party candidate Huang Kuo-chang, urging voters to cast their ballots to oust the KMT
Democratic Progressive Party (DPP) presidential candidate Tsai Ing-wen (蔡英文) yesterday criticized the Chinese Nationalist Party (KMT) "mudslinging campaign strategy" and said her lawyers are considering whether to take legal action against the KMT.
She also urged voters to oust the KMT at the ballot box.
Over the past week, the KMT and various members have repeatedly accused Tsai real-estate speculation, with some calling the DPP chairperson and her family "a group of thieves," even though Tsai and the DPP have provided official land registration records to show that the KMT's claims are false.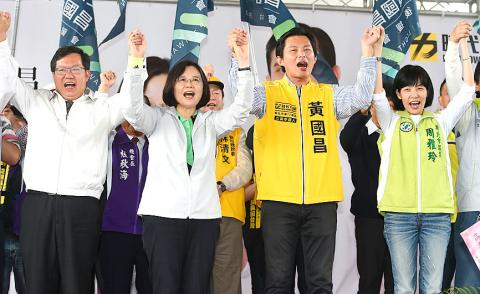 From left to right: Taoyuan Mayor Cheng Wen-tsan, Democratic Progressive Party (DPP) presidential candidate Tsai Ing-wen, New Power Party legislative candidate Huang Kuo-chang and DPP New Taipei City Councilor Chou Ya-ling yesterday cheer at Huang's campaign rally in New Taipei City's Sijhih District.
Photo: Chang Chia-ming, Taipei Times
"I would like to take this opportunity to tell [KMT] Chairperson Eric Chu (朱立倫) that although the KMT is not doing well now, and the election is not looking good for them, a party should still maintain its morals in difficult times, so that it would have another chance to rise again with the public's support," Tsai said.
She made the remarks in response to reporters' requests for a comment on the allegations before she appeared at a rally for New Power Party legislative candidate Huang Kuo-chang (黃國昌).
"It is really not good for the KMT if it allows people who are without credibility and questionable themselves to continue to make false allegations," she said, adding: "Our lawyers are mulling legal action."
Tsai's appearance at Huang's rally in front of the railway station in New Taipei City's Sijhih District (汐止) came four days after the DPP's Central Standing Committee passed a motion to support non-DPP candidates who share similar ideologies in constituencies where the party has no nominee.
Speaking to a cheering crowd, Tsai urged voters to cast their ballot for president for her and Huang for legislator. She also called on them punish the KMT for its mudslinging campaign strategy.
"In the 2012 presidential election, the KMT has employed the muddling strategy, though it has won, the people have lost," Tsai said. "This time, if the KMT is still playing the same trick, let's make them lose, let's make them lose thoroughly."
The KMT has to lose because if all a party can do in a campaign is sling muck, then it is not a party that has the ability to run a nation, she said.
In comparison, the DPP has established a team of hundreds of experts in different fields to develop policy proposals to solve the problems facing Taiwan, Tsai said.
"The DPP is confident, and determined to make changes for Taiwan so that everyone will have a good life and feel that being Taiwanese is something to be proud of," Tsai said.
Comments will be moderated. Keep comments relevant to the article. Remarks containing abusive and obscene language, personal attacks of any kind or promotion will be removed and the user banned. Final decision will be at the discretion of the Taipei Times.