NPP candidate registers for Hsinchu seat race
MOVING ON: Chiu Hsien-chih said he was focusing his campaign on reforming the Legislative Yuan's system, not on his DPP rival, Legislator Ker Chien-ming
New Power Party (NPP) legislative candidate Chiu Hsien-chih (邱顯智) yesterday registered his candidacy for the Hsinchu district seat, following the failure of efforts to "integrate" with Democratic Progressive Party (DPP) Legislator Ker Chien-ming (柯建銘).
"We showed a huge amount of good faith by putting out the possibility of integration polls, but that was not something we could make happen on our own," Chiu said. "Prior to the official registration, there was always a possibility of using polls to integrate, but that possibility fell apart after [Ker] registered on Monday."
"Integration" refers to an ad hoc primary process under which competing candidates agree to withdraw from the race and support whoever ranks highest in a negotiated set of surveys.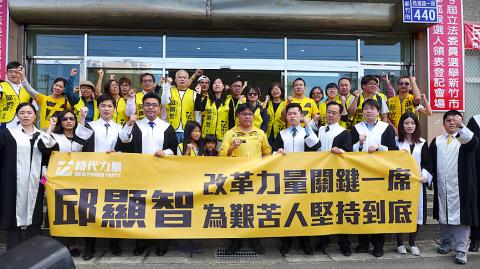 New Power Party legislative candidate Chiu Hsien-chih, front center, is joined by supporters before registering his candidacy at a government office in Hsinchu yesterday.
Photo: Wang Chun-chieh, Taipei Times
Ker last week was quoted in the Chinese-language media as saying that integration was a "fake issue" used for "electoral manipulation."
"We will keep moving forward on our set course," Chiu said, adding that while reform of the Legislative Yuan will remain one of the pillars of his campaign, his focus would be on the system, not Ker's role as the DPP caucus whip.
Chiu has been critical of role that cross-party negotiations — often conducted behind closed doors — play in the passage of legislation, while Ker has said that such discussions are a necessary measure to solve deadlocks on the legislative floor.
Ker yesterday dismissed concerns that having two pan-green candidates in the race would deliver a victory to Chinese Nationalist Party (KMT) candidate Cheng Cheng-chien (鄭正鈐), citing last year's Hsinchu mayoral election that saw DPP candidate Lin Chih-chien (林智堅) elected even though former DPP mayor Tsai Jen-chien (蔡仁堅) ran as an independent in the race.
Hsinchu is now the sole legislative district to have both a DPP and a NPP candidate in the Jan. 16 presidential and legislative elections, as the parties were able to coordinate on the nominations for most of the other district seats where there was an overlap.
Comments will be moderated. Keep comments relevant to the article. Remarks containing abusive and obscene language, personal attacks of any kind or promotion will be removed and the user banned. Final decision will be at the discretion of the Taipei Times.