INTERVIEW: Metal band singer Freddy Lim talks about politics
Since metal band Chthonic's lead singer Freddy Lim cofounded the New Power Party in January, it has surged in polls to become the only 'third force' political party so far that suggested it has enough support to be allotted at-large legislative seats in January's legislative election. In an interview with 'Taipei Times' staff reporter Abraham Gerber, Lim expanded on his political values
Taipei Times: In the past, you have said you were originally a supporter of unification with China — what changed?
Freddy Lim (林昶佐): Probably everyone in Taiwan was at that time, because textbooks under the Chinese Nationalist Party (KMT) were all "unification" textbooks. An additional factor in my case was that the middle school I attended had a high percentage of students from military dependents' villages (眷村).
After I graduated from high school, I started to have time to read books other than those given to us by the KMT and read a lot about Taiwanese history. After a while, I naturally came to identify with Taiwan, which, of course, put me under a lot of pressure. I had to overturn everything I knew and was familiar with, which was shocking and painful for me.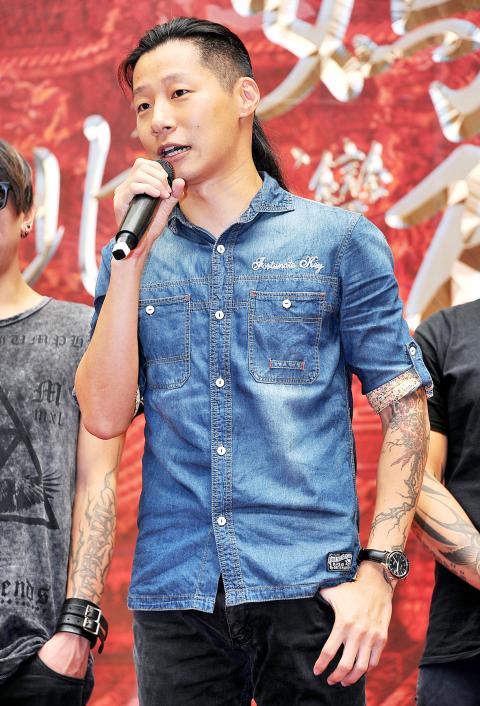 Freddy Lim, singer of the band Chthonic and cofounder of the New Power Party, is pictured on Sept. 8.
Photo: Chen Yi-chuan, Taipei Times
It was a little bit like learning at age 18 that the parents you have respected all your life killed your real parents — while it is hard to believe it at first, you have to in the end, because it is the truth. You discover that the people you originally thought were the good guys — the heroes and benefactors — actually came to Taiwan during the White Terror era and killed a tonne of people during the 228 Incident, before forbidding my grandparents from using the language they were accustomed to and suppressing the Taiwanese Opera they loved.
TT: Was college also the time when you started entering the music scene?
Lim: We organized Chthonicwhen I was a sophomore, because it was only then that there was time to seriously "play around" with a band. It was also at that time that I started to have a clearer creative direction. The songs I wrote in high school were pretty immature, related to disgust with teachers, getting a girlfriend and feeling sorry for myself, but around my second year of college, I starting listening to relatively extreme metal and then to a lot of Scandinavian and black metal. As it happened, I was also reading a lot about Taiwan, so I started wanting to use Taiwanese materials as an engine to push forward the creative process. In the beginning, most of what we wrote was mainly about myths of Taiwanese indigenous people, as well as Taiwanese ghost stories.
TT: In contrast with a lot of Taiwanese bands, you have always put a strong emphasis on political activism. When you called Taiwan your "mother country" during the 2002 Golden Melody Awards, did you think you would be banned from performing in China?
Lim: I do not think about things like that — they can do whatever they want. At the time, we had already started to have a basic fan base in Japan and Hong Kong. Afterward, we aimed to be an international band, so just targeting China would be meaningless.
We want to go wherever people like metal music, including China, but if China does not let us in, our fans in China are the ones who lose out.
TT: Why did you decided to run in the upcoming legislative elections?
Lim: This can be divided between my personal feelings and the external environment.
My personal feeling is that as Chthonic has worked hard over the years to develop and achieve status in the metal scene around the world, we have received a lot of support from Taiwanese, not only greatly outselling other metal bands domestically, but also when we tour in Europe and the US.
Whenever our van breaks down [while touring internationally], there are always Taiwanese willing to help us repair it or cart us off in their own van.
Every day there are Taiwanese mothers who send us Taiwan-style food, and when our guitarist throws out his back, there are Taiwanese masseurs and acupuncturists who help him take care of it.
The main reason for this is that Taiwan is not a normal country, because there is no way for us to achieve equal footing with other countries in international politics.
Taiwanese feel pride in [Chthonic's] ability to use non-political means to break into markets Asians have difficulty entering. As long as there is a Taiwanese who has the opportunity to participate on the international scene, other Taiwanese do whatever they can to support them.
I have always felt that, one day, I should take action to try to change something because I bear the weight of so many people's dream for Taiwan.
In terms of the environment, I do not think anyone would deny that Taiwanese have started to yearn for change over the past two or three years.
While social movements became less active after 2000 and focused mainly on supporting or opposing political figures, over the past two years, social movements have been focused around issues such as nuclear energy, the "black box" service trade agreement [with China], "black box" curriculum guidelines and human rights in the military.
This is a time when I can make the greatest contribution, because if we do not do something now, all of this social energy would be wasted.
Next year, there will be a new president and new legislators — if the social energy of the past two years has no role in the new political landscape, it would disappear.
Comments will be moderated. Keep comments relevant to the article. Remarks containing abusive and obscene language, personal attacks of any kind or promotion will be removed and the user banned. Final decision will be at the discretion of the Taipei Times.