Eric Chu's 'One Taiwan' slogan criticized
KMT CAPITALIZING? Taipei City Government policy adviser Hung Chih-kun said 'one China' was missing, while others said the slogan promotes Taiwanese independence
Chinese Nationalist Party (KMT) presidential candidate Eric Chu's (朱立倫) latest campaign slogan unveiled yesterday has triggered a heated online discussion on its underlying messages, as well as bringing accusations of plagiarism.
Early yesterday, Chu posted on Facebook a photograph showing a billboard in Taipei's downtown area with the slogan "One Taiwan."
"Past campaigns were usually a process of prolonged bickering ... but after staring at a few key words — solidarity, action and strength — which I selected from a long list, I have come to a realization about the predicaments Taiwan has experienced over the years," Chu wrote on Facebook.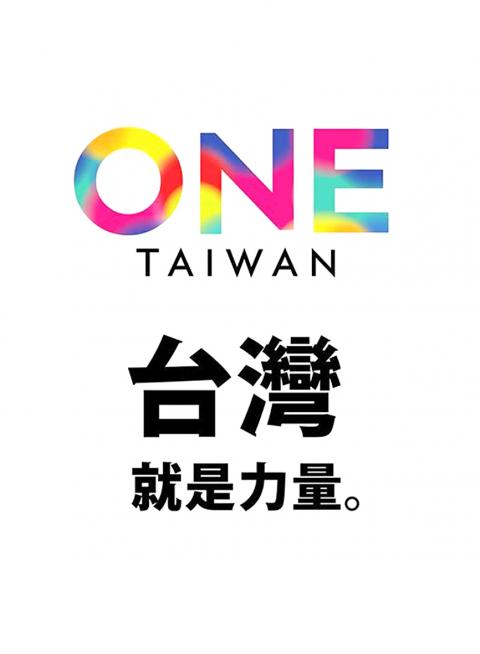 The campaign slogan and logo of Chinese Nationalist Party (KMT) presidential candidate Eric Chu is shown in a screed grab from Facebook after it was released yesterday. The characters beneath "one Taiwan" read: "Taiwan is strength."
Photo: Screen grab from Facebook
Chu said he realized that people generally tend to spend more time arguing over problems than trying to tackle them, which has led to the nation's stagnant economy and "social chaos."
Addressing Taiwan's problems requires unity, mutual tolerance and comprehension, Chu said.
"We must jointly march forward into the future with a multicolored, diversified, and united 'one Taiwan,'" he said.
Some netizens were quick to fill in the blank for Chu's campaign slogan, saying his "One Taiwan" insinuates Taiwanese independence and stands for "one Taiwan, one China."
"It is brave of Chu to imply there is 'one Taiwan, one China' in his campaign slogan, but why not just say the whole thing?" Taipei City Government policy adviser Hung Chih-kun (洪智坤) said.
Others accused Chu of using the name of Taiwan to solicit votes.
"Chu is saying 'one Taiwan' but thinking about 'one China,'" said a Facebook user who identified himself as Wang Chih Kang. "The 2.0 version [of President Ma Ying-jeou (馬英九)] must be thinking how gullible Taiwanese are."
Another netizen, named Cheng Sheng-chuan (鄭勝全), compared the KMT to a schizophrenic person who thinks about "one China" on ordinary days, but automatically shifts their stance to "One Taiwan" during campaign season.
Several netizens accused Chu of plagiarism, saying there is a striking resemblance between the design for his "One Taiwan" poster and that for Democratic Progressive Party (DPP) presidential candidate Tsai Ing-wen's (蔡英文) campaign advert "Light Up Taiwan."
Both Tsai's and Chu's campaign advertisements are against a white backdrop and use a similar calligraphic style for the word "Taiwan."
The DPP advert features a hollow circle in various shades of green, while the letter "O" in Chu's billboard is rainbow-colored.
"Does it mean Chu agrees with Tsai's principles and values? He should at least put the name and emblem of his party on the billboard, otherwise people might mistake it for one of Tsai's campaign ads," a Facebook user named Liu Che-wei (劉哲瑋) wrote.
Chu said that his "One Taiwan" idea means bringing everyone together regardless of where they are from, their social status or wealth.
"That is the primary mission of a head of state," he said.
Comments will be moderated. Keep comments relevant to the article. Remarks containing abusive and obscene language, personal attacks of any kind or promotion will be removed and the user banned. Final decision will be at the discretion of the Taipei Times.