Eric Chu likened to former 'emperor'
HUNDRED-DAY BARRIER?: Political science professor Chang Ya-chung said that the KMT chairman would remain as a 'modern day emperor' until the Jan. 16 vote
A policy adviser to soon-to-be-ousted Chinese Nationalist Party (KMT) presidential candidate Hung Hsiu-chu (洪秀柱) yesterday compared her likely replacement, KMT Chairman Eric Chu (朱立倫), to former Republic of China (ROC) president and short-lived, self-proclaimed emperor Yuan Shikai (袁世凱).
"On Aug.14, 1915, six supporters of Yuan, notably monarchist Yang Du (楊度), established a political group called the Chouanhui (籌安會)," National Taiwan University political science professor Chang Ya-chung (張亞中) said in an editorial published in the Chinese-language China Times.
Chang said the group issued a statement saying that the survival of the nation was closely intertwined with the lives of Chinese and that they could not sit back and let the nation head toward destruction.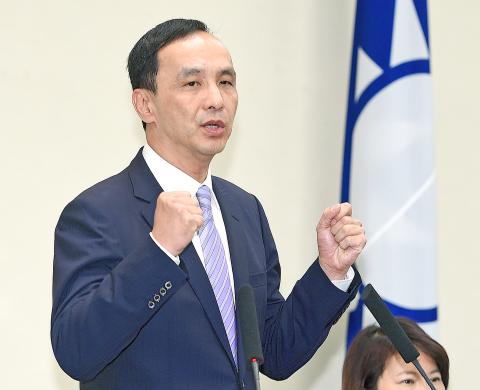 Chinese Nationalist Party (KMT) Chairman Eric Chu speaks during a KMT Central Standing Committee meeting in Taipei on Wednesday.
Photo: Liao Chen-huei, Taipei Times
Despite its justification, the group had only one purpose: to overthrow the democratic republic built by ROC founding father Sun Yat-sen (孫逸仙) and restore the monarchy in China, Chang said.
"One hundred years later, Chu and the KMT's top brass are doing exactly the same. They declare that as KMT members, the party's survival is closely intertwined with that of the nation, and that they cannot sit back and let the party go into extinction," Chang said.
Drawing a parallel between the Chouanhui and the KMT's special party congress to rescind Hung's nomination, Chang said the Chouanhui kept Yuan as emperor for 83 days, while its "present-day version" might help sustain Chu's upward momentum for a little longer, but fewer than 100 days.
Chang said Chu and other participants in the congress would go down in history as the destroyers of a democratic institution, citing their "dumbfounding decision" to let the party chairman replace a democratically selected candidate when there are only 92 days left until the Jan. 16 presidential election.
"It is definitely a first among democratic nations," he added.
Chang questioned the legitimacy of the KMT leadership's plan to use a conference to be attended by only about 1,000 party representatives to force out a candidate who passed the party's primary with a support rating of 46 percent.
"At the end of the day, it is up to the party representatives attending this weekend's congress to decide whether to play along with the KMT without caring about the grievous wrongs Hung has suffered ... or to take into account the party's 100-year legacy. Judge the matter as it stands and prevent the modern version of Chouanhui from resurfacing," Chang said.
Comments will be moderated. Keep comments relevant to the article. Remarks containing abusive and obscene language, personal attacks of any kind or promotion will be removed and the user banned. Final decision will be at the discretion of the Taipei Times.