Search for AT-3 aircraft, missing pilots to continue
Authorities yesterday expanded air and ground search operations in central Taiwan's mountainous regions, with the addition of more aircraft sorties to locate an AT-3 Air Force Academy training aircraft and its two pilots after the plane lost contact with air traffic controllers on Tuesday during a routine training flight.
However, there was still no sign of the missing AT-3 trainer jet and the two pilots as of press time.
Officials at Air Force Command Headquarters said the search covered the area around the 3,785m-tall Mabolasi Mountain (馬博拉斯山) and the 3,325m-tall Danda Mountain (丹大山) in the Central Mountain Range, bordering Nantou County and Hualien County.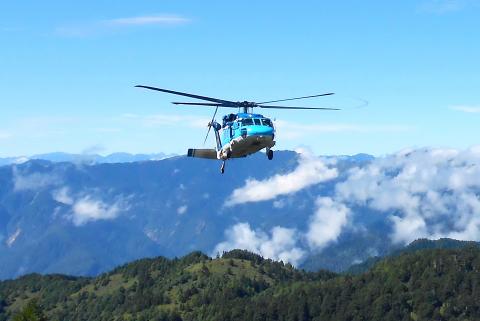 An S70-C helicopter searches for a missing AT-3 training aircraft and its two pilots in mountainous regions of Hualien County yesterday.
Photo: Hua Meng-ching, Taipei Times
The military dispatched both rotary wing and fixed-wing aircraft on the operation's second day, including S70-C rescue helicopters, one CH-47 helicopter, an E-2K early warning aircraft and an RF-5 reconnaissance aircraft, making a total of 15 sorties.
The Ministry of National Defense said that, in addition to yesterday's air operation, a total of 191 military servicemen were mobilized to support the search, which was made difficult because of the treacherous trails and unfavorable weather conditions in the area's mountainous terrain.
Ministry officials said unmanned aerial vehicles (UAV) equipped with surveillance cameras were to continue search efforts after dusk, but the plan was shelved due to strong winds and poor visibility, with attempts to deploy the UAV's to resume today, weather permitting.
Officials also confirmed that a 17-member team of special forces soldiers and mountain community aboriginal residents carrying tools, equipment and food supplies had departed from Hualien County's Wangrong Township (萬榮) to advance on foot through mountain trails yesterday evening.
Military operation commanders said that, with the help of local aborigines, they have located a suitable terrain for helicopter landing only 1.5km from one area the search is focusing on, and that a base camp has been established at the site.
Officials said they have air-dropped supplies and landed seven soldiers from a special forces unit at the site, adding that they would be able to reach a search target area via foot trails in a few to look for the missing jet and its two pilots.
Officials said that they face a race against time to find Major Wang Ching-chu (王勁鈞), 32, and First Lieutenant Huang Chun-jung (黃俊榮), 23, due to what is known as "the golden 72-hour" time frame for rescuers.
Comments will be moderated. Keep comments relevant to the article. Remarks containing abusive and obscene language, personal attacks of any kind or promotion will be removed and the user banned. Final decision will be at the discretion of the Taipei Times.