Support for Ma remains low: poll
PAN-BLUE BLUES: The president garnered an approval rating of only 21.9%, while his party drew a dissatisfaction rating of 71.8%, a Taiwan Brain Trust poll showed
President Ma Ying-jeou's (馬英九) and Premier Mao Chih-kuo's (毛治國) approval ratings remained low at 21.9 percent and 19.3 percent respectively, according to the newest poll by the Taiwan Brain Trust think tank.
In direct correlation to their low popularity, dissatisfaction with Ma and Mao stood at 69.9 percent and 57.4 percent respectively, the survey released yesterday showed.
The widespread public dissatisfaction with the Ma administration was also reflected in their dissatisfaction with the Chinese Nationalist Party (KMT), which stood at 71.8 percent.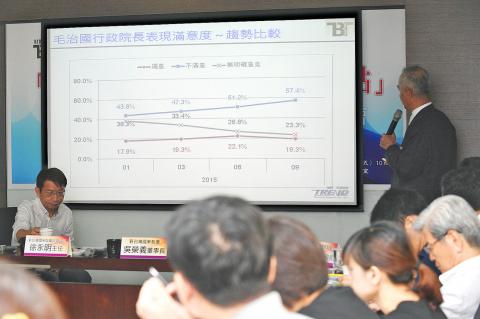 The Taiwan Brain Trust releases a poll at a press conference in Taipei yesterday showing that Premier Mao Chih-kuo's approval rating continues to decline.
Photo: Chen Chih-chu, Taipei Times
The Democratic Progressive Party (DPP) garnered a more favorable 42.3 percent satisfaction rating, but 45 percent also said they were dissatisfied with the party's performance.
The poll found that 54.5 percent of respondents were confident about the DPP's ability to maintain peaceful development of cross-strait relations should it win the presidential election next year, while 36 percent were unconvinced.
Asked whom they would support in the Jan. 16 presidential election if the candidates remained Tsai Ing-wen (蔡英文) of the DPP, Hung Hsiu-chu (洪秀柱) of the KMT and James Soong (宋楚瑜) of the People First Party, 46.8 percent of respondents chose Tsai, 17.2 percent picked Hung and 16.7 percent favored Soong.
Support for Soong dropped from 23.6 percent in July, when he ranked second.
Taiwan Brain Trust's poll center director Hsu Yung-ming (徐永明) said the party's decision to send PFP Secretary-General Chin Chin-sheng (秦金生) to attend the Chinese military parade in Beijing on Sept. 3 hurt support for Soong.
The decision also hurt the PFP's legislator election standings, with the poll showing PFP party votes standing at 5.6 percent, trailing behind the New Power Party's 6.8 percent.
When asked about their perceptions of former vice president Lien Chan's (連戰) participation in the military parade, 52.1 percent of respondents said Lien's participation had a negative effect on cross-strait relations, while 29.2 percent felt it had a positive contribution.
The poll showed that 54. 6 percent of respondents felt that the event in itself had a negative effect on the peaceful development of cross-strait relations, while 20.8 percent felt it had a positive effect.
It also found that 44.4 percent of respondents thought China to be the nation with the most influence on Taiwan's presidential election, while 39.2 percent and 2.9 percent felt that the US and Japan respectively were the most influential.
If China were to vocally support a particular candidate, 85.6 percent of respondents said they would not support that candidate, while 6.3 percent said they would.
On economic issues, 64.2 percent said economic development is the primary issue in next year's presidential election, followed by government effectiveness at 12.7 percent. Only 4.5 percent of polled individuals felt that cross-strait policies should be prioritized.
The poll found that 41.1 percent of respondents felt that Tsai was the most qualified to handle Taiwan's economic problems, with Soong coming in second at 24.5 percent. Hung trailed at 9.8 percent.
The survey, conducted from Saturday last week to Monday, with 1,070 valid samples, has a margin of error of 3 percentage points.
Comments will be moderated. Keep comments relevant to the article. Remarks containing abusive and obscene language, personal attacks of any kind or promotion will be removed and the user banned. Final decision will be at the discretion of the Taipei Times.