Siraya youths leverage social media to appeal to peers to return to village
With less than a month left to prepare for traditional nighttime Arit worship at Tainan's Kabasua Village (吉貝耍), Siraya youths are turning to Facebook to ensure their peers attend and are learning about their community's culture.
The Siraya are one of the most vital of the Pingpu — Aboriginal communities who originally inhabited lowland regions.
Tuan Po-yu (段柏瑜), who as a high-school junior served as the Kabasua Youth Association's founding president, urged the village's young people to return home, as she is worried that Siraya culture might become extinct.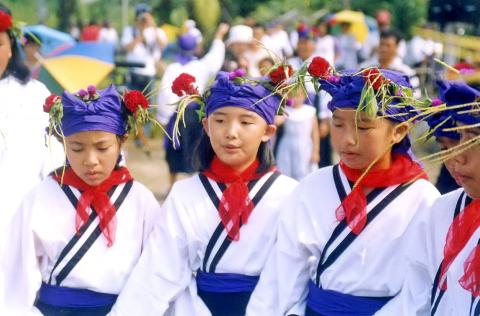 Siraya Aborigine girls hold hands as they perform a traditional dance in Tainan on Thursday.
Photo courtesy of Tuan Hung-kun
"Do you remember the warmth of the plaza in front of the konkai (公廨) before it was renovated? Do you remember the paper with the words in Mandarin that we knew the sounds to, but not the meaning of the song and dance?" she said on Facebook, hoping her peers recall the nights where they cautiously learned steps to dances.
Konkai is the Siraya term for a location where Siraya people gather to make decisions on important issues, a place for young people to gather and also the place where they worship the Arit — their ancestral spirit turned guardian deity.
She called on her peers to remember the importance behind the culture those words and dance steps carried with them.
"Having culture is not unconscious action, and although our people are not officially recognized, that does not mean that we do not have our own culture," Tuan said.
"As members of our community, it is up to us how to interpret our culture," Tuan added.
Tuan was referring to the fact that, despite repeated petitions, the government has not granted official recognition of Pingpu communities as Aboriginal people.
When sending out invitations to return to the village to attend the event, Tuan said she was filled with great anxiety that her friends would decline. However, she sent out the invitations in the hope of again seeing the people with whom she had in her youth sung in the Siraya language and danced.
No matter what they decide, it will not discourage our recognition of our own land and culture, Tuan said, adding that for every member of the community who has or will participate in the ritual, "the annual meeting at the konkai and the steps we dance together have linked us together, forging an eternal bond between us all."
Comments will be moderated. Keep comments relevant to the article. Remarks containing abusive and obscene language, personal attacks of any kind or promotion will be removed and the user banned. Final decision will be at the discretion of the Taipei Times.