Criteria for 'air pollution days off' detailed by OSHA
NO PAY: Firms are not legally required to declare air pollution holidays, and if they do, employees do not have to be paid unless they have been told to be on stand-by
Criteria for "air pollution days off" have been announced by the Occupational Safety and Health Administration (OSHA).
The Ministry of Labor organization said that working outdoors should be halted when the Pollutant Standards Index (PSI) exceeds 500 or the concentration level of airborne pollutants measuring less than 2.5 micrometers — PM2.5 —is above 500 micrograms per cubic meter.
Outdoor activities should be suspended for workers more vulnerable to air pollution — those with chronic respiratory disease or cardiovascular disease, pregnant women and senior workers — when the PSI is between 400 and 499 or the PM2.5 level is above 350.4 micrograms per cubic meter, OSHA said as it promulgated the new rules last week.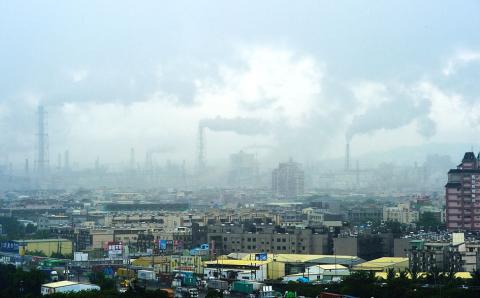 Emissions from factory smokestacks are seen in Kaohsiung on May 25.
Photo: Chang Chung-i, Taipei Times
If the PSI reaches 101 or the PM2.5 level exceeds 35.5 micrograms per cubic meter, employers should provide air pollution mask for outdoor workers, OSHA said.
Based on sulphur dioxide, particulate matter smaller than 10 micrometers in diameter (PM10), nitrogen dioxide, carbon monoxide and ozone according to the Environmental Protection Administration's (EPA) module, the PSI indicates air pollution levels on a scale of zero to 500.
The air quality is poor and unhealthy for sensitive groups if the PSI exceeds 100, the EPA said, adding that the average PSI last year was 54, and only 1.29 percent of the days in last year exceeded 100.
Employers are not legally bound to declare an air pollution holiday, and such holidays do not qualify for pay because the pollution is not attributable to either employers or employees, OSHA said. However, employers do have to pay if they ask their workers to be on stand-by on such days, it said.
In related news, the EPA on Wednesday announced a NT$39.2 billion (US$1.19 billion), six-year air pollution control project to reduce the PM2.5 level from 23.5 micrograms per cubic meter last year to 15 micrograms per cubic meter by 2020.
It is the first inter-ministerial air pollution control program since the promulgation of the Air Pollution Control Act (空氣污染防制法) in 1975, the EPA said.
As part of the program, the EPA plans to purchase 600,000 electric scooters and 2,100 electric vegetable transporters, replace 2,858 diesel buses with electric models, install exhaust filters on 38,000 diesel cars, instruct 100 hotels to use natural gas-fired boilers and furnaces and suppress fugitive emission from riverbeds, while establishing a bilateral air pollution control program with China and increasing the infrastructure and researches of particulate matter.
About 30 percent of the air pollutants in Taiwan come from overseas, and the remaining 70 percent is produced domestically, EPA Department of Air Quality and Noise Control Director-General Chen Hsien-heng (陳咸亨) said.
Of the pollutants produced locally, 37 percent are caused by transportation and 31 percent by factory emissions, so the EPA plans to spend a larger part of its budget replacing diesel vehicles and subsidizing electric models, Chen said.
The PM2.5 levels are most elevated in winter, as the northeastern monsoon brings in the pollutants from China, which adds to the fugitive emission caused by dust blown off of dry riverbeds in central and southern Taiwan, Chen said.
However, Kaohsiung and Pingtung County have said they would not be able to reach the EPA's goals.
Kaohsiung said that it could only reduce the PM2.5 level to 27.7 micrograms per cubic meter, while and Pingtung said it would be able to reach 22.44 micrograms per cubic meter, Chen said.
Comments will be moderated. Keep comments relevant to the article. Remarks containing abusive and obscene language, personal attacks of any kind or promotion will be removed and the user banned. Final decision will be at the discretion of the Taipei Times.