Curriculum Protests: China Unification Promotion Party protests against 'pro-Japan' curricula
Dressed as Japanese Imperial Army soldiers, members of the China Unification Promotion Party yesterday demonstrated outside Democratic Progressive Party (DPP) headquarters in Taipei, accusing the DPP of "brainwashing" students with pro-Japan curricula.
"We want to thank the DPP for educating the children in Taiwan to love our Empire of Japan. This is something that our own Japanese kids would not do, and something we could not force the Taiwanese to do in our 50 years of Japanizing education," a man dressed up as a Japanese Imperial Army commander said through a loudspeaker, with a Japanese accent. "Therefore, we are here to present our certificate of gratitude to the DPP today."
Holding a "certificate of gratitude," the protesters declared that they would sing a Japanese military song before entering the building, but what they sang instead was the Japanese children's song Momotaro-san, or "The Peach Boy," eliciting laughter from both members of the media and DPP staff.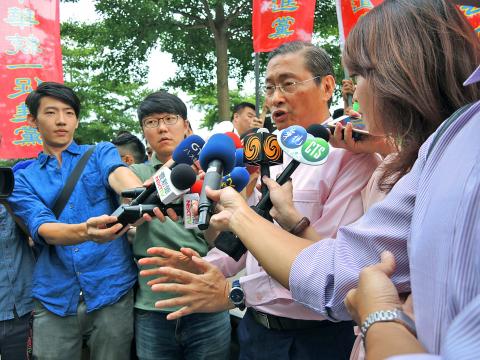 Former leader of the Bamboo Union and founder of the China Unification Promotion Party Chang An-le, also known as the "White Wolf," center right, talks to reporters during a protest at Democratic Progressive Party's headquarters in Taipei yesterday against its support for the ongoing student protests.
Photo: CNA
However, when the DPP declined to accept the certificate, the protesters attempted to force their way in, and briefly clashed with the police.
"What you are doing now is in violation of the Assembly and Parade Act (集會遊行法). If you try to force your way into the building again, we will arrest you," Zhongzheng First Precinct Chief Chang Chi-wen (張奇文) said through a loudspeaker.
Former gang leader and China Unification Promotion Party chairman Chang An-le (張安樂) — better known by his Bamboo Union nickname "White Wolf" — later appeared to talk to the media about the demonstration.
"The protesters dressed up in Japanese Imperial Army uniforms to mock the education under former president Lee Teng-hui (李登輝) and the DPP, which 'poisoned' the students with pro-Japan curricula," Chang said. "And this is why the curriculum guidelines must be changed."
Comments will be moderated. Keep comments relevant to the article. Remarks containing abusive and obscene language, personal attacks of any kind or promotion will be removed and the user banned. Final decision will be at the discretion of the Taipei Times.