New Party files charges against Lee
'SLEEP-INDUCING': Chairman Yok Mu-ming filed charges of treason against Lee Teng-hui over his remarks on the Diaoyutais, which Lee said were clearly political theater
New Party Chairman Yok Mu-ming (郁慕明) yesterday filed public prosecution charges against former president Lee Teng-hui (李登輝), accusing him of treason over remarks he made last week in Japan that the disputed Diaoyutai Islands (釣魚台) belong to Japan and not Taiwan.
Yok filed the charge with the Taiwan High Prosecutors' Office, with pro-unification supporters shouting slogans such as "Lee Teng-hui, go back to Japan."
That Lee met with Japanese lawmakers and reportedly with Japanese Prime Shinzo Abe before publicly stating that the Diaoyutais rightfully belong to Japan means Lee violated Article 104 of the Criminal Code, Yok said.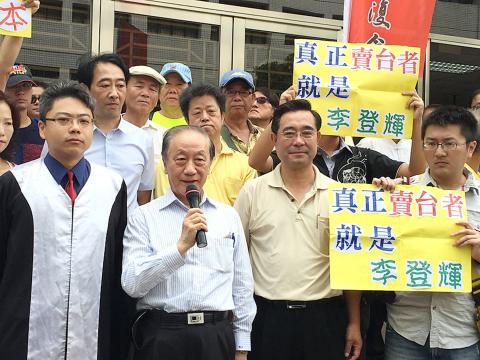 New Party Chairman Yok Mu-ming, second left, speaks outside the Taiwan High Prosecutors' Office in Taipei yesterday, accusing former president Lee Teng-hui of selling Taiwan out over comments he made about the Diaoyutai Islands belonging to Japan.
Photo: CNA
The article stipulates that people be sentenced to death or life imprisonment if they collude with a foreign state or its agents with the intent to subject the territory of the Republic of China (ROC) to that state or other states or incur a sentence of no less than three years and no more than 10 years if they prepare or conspire to commit the offense.
Yok said that Lee has "sold his soul and the ROC," adding Lee should be denied any preferential treatment accorded to him as a former president.
"Any citizen is duty-bound to safeguard our territory. That's why we were here to file the charge so Lee will be interrogated about his meeting with Abe," Yok said.
Yok said that Lee said in October 1996 when he was president that the Diaoyutais belong to the ROC and the first time he said they are Japanese territory was in September 2002, when he was out of office during an interview with Japanese media.
"Have you not highlighted repeatedly the importance [of Japan bringing] the Bushido spirit back? One of the essences of Bushido spirit is integrity. You have been inconsistent on the issue. Are you lying? What is your position exactly?" Yok said.
Lee returned to Taiwan on Sunday night after a six-day visit that began on Tuesday last week, during which he reportedly had a 90-minute talk with Abe over breakfast on Thursday at the hotel at which he was staying, although both sides denied the news when it was first broken by TV Tokyo Corp.
Separately, the Chinese Nationalist Party (KMT) legislative caucus whip Lai Shyh-bao (賴士葆) yesterday called a conference to state that the caucus planned to amend the Act Governing Preferential Treatment for Retired Presidents and Vice Presidents (卸任總統副總統禮遇條例) to rescind the preferential treatments Lee has been entitled to.
Lai said he "despised" Lee for making the remarks about the Diaoyutis that "surrendered sovereign rights and brought humiliation to the nation" and "romanticizing the Japanese rule of Taiwan" while enjoying the preferential treatments worth about NT$10 million (US$316,857) of taxpayers' money a year.
"Lee said in Japan that Taiwanese feel nostalgia for Japanese rule, but in fact, people were harshly bullied, abused, humiliated and oppressed during the colonial period. As a former president, how dare he made the remarks to flatter Japan," Lai said.
Lai said that the KMT caucus would also file a complaint with the Control Yuan and do whatever it can to end the preferential treatment Lee receives.
In response, Lee said through his office director Wang Yen-chun (王燕軍) yesterday afternoon that the actions taken by the KMT and the New Party "are obviously propaganda tricks for their election campaigns."
"Whether proposing to amend the law or threatening to take legal action, everyone knows these are politically motivated, and there is no need to play along," Lee was quoted as saying.
Lee said he has repeated in public several times, whether in Taiwan or overseas, that he believes the Diaoyutais belong to Japan, so it is ridiculous for the New Party to accuse him of making secret deals with Japan.
"You only need to repeat the same thing over and over when you want something that doesn't belong to you. It's sleep inducing," Lee said.
Additional reporting by Loa Iok-sin
Comments will be moderated. Keep comments relevant to the article. Remarks containing abusive and obscene language, personal attacks of any kind or promotion will be removed and the user banned. Final decision will be at the discretion of the Taipei Times.