Ramadan feast celebrated in Taipei Railway Station
SHARING CULTURE: Thousands of Indonesian Muslims gathered in Taipei Railway Station yesterday to feast the end of Ramadan facilitated by the city government
Thousands of Indonesian workers gathered at the Taipei Railway Station yesterday to celebrate the end of Ramadan, the Islamic holy month of fasting.
The Eid al-Fitr, or the "festival of the breaking of the fast," is an important religious holiday observed by Muslims around the world.
The Taiwan Railways Administration (TRA) estimated that between 10,000 and 20,000 Indonesian workers flocked to the nation's largest train station yesterday morning for the first Sunday after the Edi al-Fitr began on Friday last week.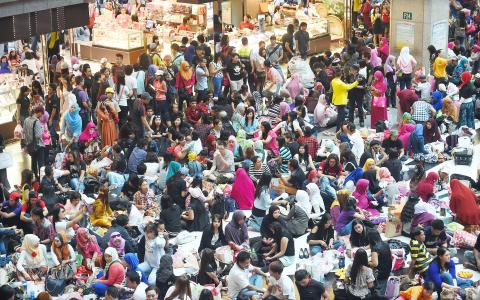 Mostly Indonesian Muslim migrant workers gather in the foyer of Taipei Railway Station yesterday to celebrate Eid al-Fitr, marking the end of the fasting month of Ramadan.
Photo: Lo Pei-der, Taipei Times
Many workers sat in circles in the station's lobby and shared their food. The Taipei City Government had also prepared a celebratory event for the workers to enjoy the festival.
The city government arranged for an Indonesian-speaking staff member to broadcast important announcements as part of the celebrations.
Taipei Railway Station Master Chien Hsin-li (簡信立) said that the station set up red ropes separating train passengers queuing at the ticket windows at the lobby and the Indonesian workers arriving for the event, adding that signs were pasted on the floor to facilitate crowd movement.
Chien said that the station had staff and volunteers to assist those celebrating the holiday so they could enjoy the space reserved for them, and train passengers could access ticketing queues.
"Though people have different opinions about the gathering of foreign laborers in Taipei Railway Station, we respect and coexist with each other peacefully. We live in a multicultural society. We also have to ensure that the train passengers would not be affected," he said.
Statistics from the Taipei City Government said that there are approximately 40,000 foreign workers in Taipei City, with 75 percent from Indonesia.
Taipei City Deputy Mayor Chou Li-fang (周麗芳) said that the city thanks these workers for their services in hospitals, with families and in factories. She said that the mayor is working to make the city more friendly for foreign workers.
The city's Department of Labor said that Ramadan and its relevant festivals are of crucial significance to Muslims, adding that people should show compassion for foreign workers who leave their homes and work in Taiwan.
Comments will be moderated. Keep comments relevant to the article. Remarks containing abusive and obscene language, personal attacks of any kind or promotion will be removed and the user banned. Final decision will be at the discretion of the Taipei Times.