Filmmaker to run for legislative seat
STILL DARING: Mayaw Biho said if elected he would propose that the Constitution be amended to include a new chapter specifically to address Aboriginal affairs
Filmmaker Mayaw Biho of the Amis Aboriginal community on Thursday announced he would run for a seat representing the Pingpu people in the Legislative Yuan.
He made the announcement at a news conference attended by celebrities such as singers Ara Kimbo, Chang Chen-yue (張震嶽) and Panai.
The event was also attended by heavy metal band Chthonic lead vocalist and New Power Party founder Freddy Lim (林昶佐), Social Democratic Party (SDP) founder Fan Yun (范雲) and Green Party Taiwan (台灣綠黨) convener Lin Ken-cheng (林根政).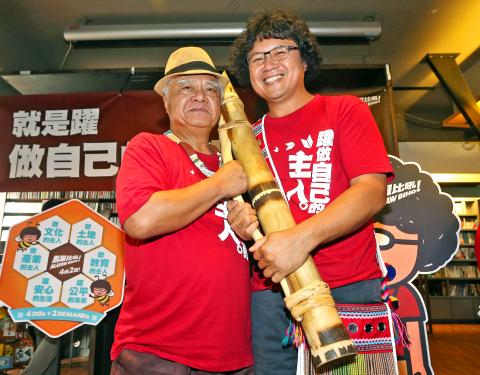 Filmmaker and Aboriginal activist Mayaw Biho, right, stands next to Paiwan singer Ara Kimbo on Wednesday in Taipei at an event where Mayaw Biho announced his decision to run for a legislative seat.
Photo: CNA
According to Mayaw Biho, there have been more problems for the Aboriginal community since he lost the 2012 legislative election and became the executive director of the Tainan City Government's committee on ethnic affairs.
"If we do not face up to the issues, we cannot effect change," Mayaw Biho said, adding that Aborigines needed to become masters of their land and culture once again.
"We need to ensure a future that is fair and equal," he said.
The candidate, running for one of the three seats dedicated to Taiwan's lowland Pingpu Aboriginal people, pointed to the Smangus incident as an example, saying that if every village could formulate and implement their own rules, Taiwan would become a place capable of supporting multiple cultures and ethnicities.
Smangus Village (司馬庫斯) is known for opening up its land to tourism, but also implementing its own rules to ensure tourists do not overly disturb the local way of life.
Of the nation's 540,000 Aborigines, 45.58 percent have registered their residences in urban areas, but although they have left their home villages to improve their lives, they are often faced with low wages and dangerous working conditions, Mayaw Biho said.
The average Aborigine earns NT$27,000 per month, Mayaw Biho said, with poor living conditions, low levels of education and discrimination from mainstream society leading to shorter life spans.
Aborigines need legislative amendments, Mayaw Biho said, adding that if elected he would propose the inclusion of a new chapter in the Constitution to address Aboriginal affairs specifically.
Singer-songwriter Ilid Kaolo said she supports Mayaw Biho for remaining steadfast in his criticism of politicians even after being elected.
To the chorus of his song Do You Still Dare to Dream? Mayaw Biho accepted a bamboo water pipe from Ara Kimbo, as well as gifts of rice wine, betel nuts and betel tree leaves from Fan, Lim and Lee, symbolizing their hope of working with him in the Legislative Yuan.
Comments will be moderated. Keep comments relevant to the article. Remarks containing abusive and obscene language, personal attacks of any kind or promotion will be removed and the user banned. Final decision will be at the discretion of the Taipei Times.