Village library devoted to Aboriginal children opens
A FURTHER EDUCATION: The opening of a children's library dedicated to teaching Aboriginal children has inspired hope for students wanting a further education
Taiwan's first library dedicated to Aboriginal children opened in Pingtung County's Changjhih Township (長治) on Saturday. The Vusam Children's Library hopes to devote more resources and time to Aboriginal children's education.
According to Vusam organization founder Liang Ming-hui (梁明輝), the difficulties of travel and general lack of educational resources such as libraries, cram schools or daycare centers has made it difficult for students in Aboriginal villages to study outside of the classroom.
They often also cannot ask their parents to help them with homework, Liang said, adding that these children are lagging behind their peers in the cities because of their location.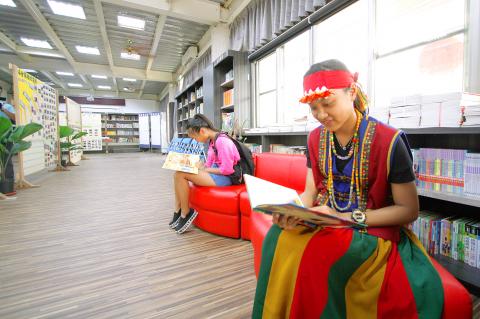 A girl reads a book in Taiwan's first library to be dedicated to Aboriginal children, in Pingtung County's Changjhih Township on Saturday, the day it opened.
Photo: Chiu Chih-jou, Taipei Times
The organization has established extracurricular classes using volunteer teachers to help children with their homework, Liang said, adding that students from elementary school through college attend the classes.
Association director Liang Hsiu-na (梁秀娜) said that it was also providing scholarships for college students whose family were not well-off, adding that the association encouraged college students to find extra jobs to ease the financial burdens on their parents.
Liang Ming-hui said he started Vusam with like-minded friends 14 years ago and the association now has 58 extracurricular classes across Pingtung County.
The classes also provide free dinner, the founder said.
Seven students have since received their doctorates with the help of the association, Liang Ming-hui said, adding that more than 200 others are now in college or working on their master's degrees.
Education is how Aboriginal children change their lives, Liang Ming-hui said.
Using himself as an example, Liang Ming-hui said that he had studied and worked hard before he was able to work as a teacher at an elementary school.
Referring to his experiences in teaching, Liang Ming-hui said that Aboriginal children want to study, but that they did not have the resources or people to show them how.
Liang Ming-hui said his earnest hope is that all children who had attended the association's classes would one day give back to the villages and society, adding that it was the main goal of the association.
In the wake of Typhoon Morakot, which devastated almost the entire southern part of the nation in 2009, the association has raised a total of NT$20 million (US$641,478) and came to an agreement with the Pingtung County government to use some government property to build a library dedicated to Aboriginal children.
The 1,980m2 library opened to the public on Saturday after two years of construction, Liang Ming-hui said, adding that the library's collection of 10,000 books largely focuses on young adult and Aboriginal literature.
The association hopes to use the library as a base to focus its efforts and sow the seeds of education in Aboriginal villages, Liang Ming-hui said.
Meanwhile, students who have participated in the association's classes praised the efforts.
Cheng Lu-te (鄭路得), a third-year senior-high school student, said that everyone in the village was happy about the classes because of a lack of cram schools in the village and the distance between the village and the city.
Quiet places to do homework and having teachers to ask questions were excellent, Cheng said, adding that she had also volunteered to help elementary-school children with their homework during the summer and winter vacations.
"If outside resources are not coming to the villages, then we villagers must shoulder the issue of education ourselves," Cheng said.
Fifth-year elementary-school student Cheng En-hui (鄭恩惠) said that she was glad the village now had a library, adding that while the school had a library, it was better to have one close to home.
Comments will be moderated. Keep comments relevant to the article. Remarks containing abusive and obscene language, personal attacks of any kind or promotion will be removed and the user banned. Final decision will be at the discretion of the Taipei Times.