Hermit crab's unusual home a sign of degradation of beach on Green Island
A group of tourists on a Green Island (綠島) were shocked — and saddened — to see a hermit crab walking with a doll's head as cover on a beach, with some of them saying that it was a "ghost head" moving, according to their guide.
A bed-and-breakfast operator nicknamed Guai Shou (怪獸, monster), on Monday said that a group he was leading on an ecological tour of Haishenping Bay (海參坪) on Sunday came across a hermit crab that had appropriated a discarded doll's head as its home.
"Some in the group thought it was funny, but others felt sad after I explained to them why it had come to that," Guai Shou said.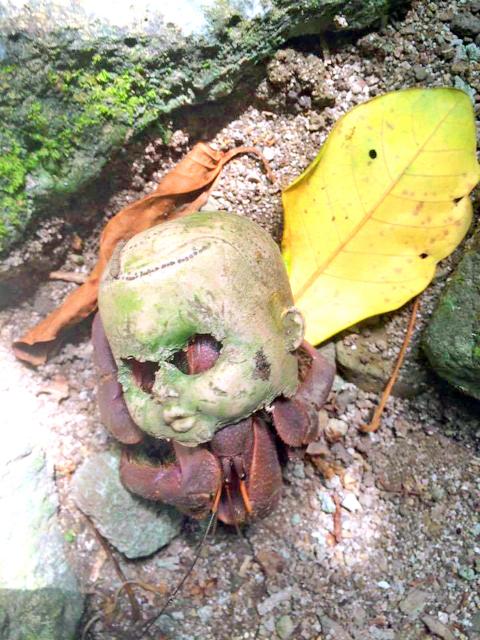 A hermit crab uses an old doll's head as its shell on a beach in Haishenping Bay, Green Island, on Saturday last week.
Photo: Courtesy of Guai Shou
Hermit crabs normally try to find seashells to use as protection against predators, but this crab, about as large as a man's fist, apparently could not find a proper home on the garbage-strewn beach and was making do with the doll's head, he said.
Green Island residents said that seashells on the beach are becoming scarcer as more tourists visit the island off Taitung County and take home shells as souvenirs.
The visitors also leave behind a lot of garbage, forcing hermit crabs to find alternatives for their normal shells, including hoses and wine glasses, Guai Shou said.
Guai Shou said people should not be surprised to see hermit crabs wearing odd guises.
"If you sympathize with their plight, then do not pick up shells on the beach and, more importantly, do not litter," he said.
Comments will be moderated. Keep comments relevant to the article. Remarks containing abusive and obscene language, personal attacks of any kind or promotion will be removed and the user banned. Final decision will be at the discretion of the Taipei Times.