Chinese law spurs local forum
'SECURITIZATION' THREAT: With Beijing now seeing Taiwan as a national security issue, academics said a turning point has been reached in cross-strait relations
The inclusion of Taiwan in China's pending National Security Law means that China sees Taiwan as a major national security concern rather than as an internal affair or an issue of nationalism, suggesting that the issue is not up for compromise, academics told a forum hosted by the Institute for National Policy Research in Taipei yesterday.
After Chinese President Xi Jinping (習近平) last year expounded his outlook on Chinese national security, aiming to achieve the objectives in "eight dimensions and four stages," China's National People's Congress began revising China's National Security Law.
Article 11 of the law reportedly stipulates that protection of China's sovereignty and territorial integrity is an obligation for all Chinese people, including the people of Hong Kong, Macau and Taiwan, and that no division is to be tolerated.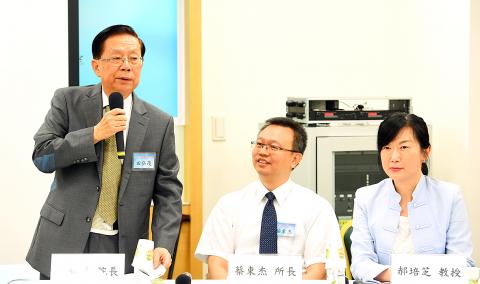 Institute for National Policy Research president Tien Hung-mao, left, speaks yesterday at a seminar on cross-strait relations hosted by the Chang Yung-fa Foundation in Taipei.
Photo: Lo Pei-der, Taipei Times
China has listed resolution of "the Taiwan issue" as one of its objectives in the proposed "third stage," from 2021 to 2049, saying: "Appropriate measures must be taken to realize national unification and territorial integrity," while including Taiwan in the law as part of its efforts toward achieving the goal, academics said.
For China, the nature of "the Taiwan issue" has changed from one sensitive to Chinese nationalism in the past to one that creates uncertainty about Chinese national security, because a separation of Taiwan divides Chinese sovereignty and territory and obstructs its plan to expand its maritime presence, National Taipei University professor Hao Pei-chih (郝培芝) said.
In view of the concerns, China is working on three fronts to resolve the issue, one of which is to "institutionalize" its claim that Taiwan is part of China by having Taiwan included in the National Security Law, launching the M503 commercial flight route and re-emphasizing its "Anti-Secession" Law, Hao said.
Meanwhile, China has continued to strengthen its armed forces while pushing for a military security coordination mechanism across the Taiwan Strait to counter the security alignment between the US and Japan, and to "decouple Taiwan from the alliance," she said.
Tsai Yu-tai (蔡育岱), director of the Institute of Strategy and International Affairs at National Chung Cheng University, said the most salient element of Xi's Taiwan policy is that he has produced what Tsai described as "a workable timetable" to resolve "the Taiwan issue."
The characterization of Taiwan as an issue of national security concern to China marks a turning point in cross-strait relations, because it means that China considers its resolution imperative in response to changes in the international strategic environment, Tsai said.
That Taiwan is viewed as a national security concern paves the way for China to take military action against the nation.
It remains uncertain whether China would exercise its leverage over Taiwan through economic sanctions or launch attacks to resolve the issue, Tsai said.
"However, 'securitization' of the Taiwan issue has placed Taiwan in an even more difficult international environment because there will be no compromise with national security," Tsai said.
Comments will be moderated. Keep comments relevant to the article. Remarks containing abusive and obscene language, personal attacks of any kind or promotion will be removed and the user banned. Final decision will be at the discretion of the Taipei Times.