INTERVIEW: William Lai talks about his 'Tainan Brand'
Despite its limited financial resources compared to other special municipalities, Tainan in recent years has constantly been voted as the best city in the nation in media surveys rating residents' sense of well-being and the performance of local governments. In a recent interview with 'Taipei Times' staff reporter Huang Tai-lin, Tainan Mayor William Lai talked about his approach to governance. In part one of a two-part interview, Lai discusses his aspiration to build the city into the nation's cultural capital via city branding — the 'Tainan brand'
Taipei Times: You were a doctor before becoming a politician. Does that experience provide you with a different perspective when tackling governance and interacting with the public?
William Lai (賴清德): There are three "spirits," so to speak, that I adhere to in my role as a mayor when implementing governance.
First of all are the Democratic Progressive Party's (DPP) founding principles of "integrity, diligent government and love of country."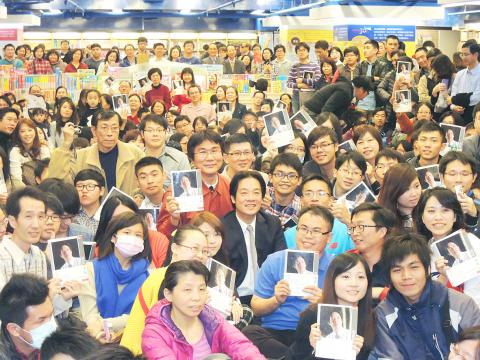 Tainan Mayor William Lai, center foreground, wearing a suit, is surrounded by a crowd at a book-signing event in Tainan on Feb. 15.
Photo: Tsai Wen-chu, Taipei Times
Second, the "spirit of medicine," and third, the "spirit of [Angus] MacGyver" [the protagonist of US television series MacGyver, who is known as a problem solver]. Despite difficult circumstances, MacGyver is always able to solve problems at crunch time by pulling together existing resources, with creativity and ingenuity. It's a mindset different from one that otherwise always asks for money and personnel whenever a problem arises and cites the lack of them as an excuse for inaction.
As for the "spirit of medicine," my past experience as a physician certainly has been helpful in my political career. When you are ill, you have to seek out the right type of doctor; the sickness could be said to be halfway cured when you find the right kind of doctor. For instance, if I am a nephrologist, someone who has cardiac problems should then visit cardiologist for treatment and not me, who would not have the expertise in treating heart disease as a cardiologist does.
Having trained as a physician, I adhere to the adage that "prevention is better than cure." Such a mindset drives me to regard the city as an organic entity and treat it as if it were a human being, which means we approach issues by making a diagnosis first and find out what problems there may be, as in the case of the merger of Tainan city and Tainan county; then solve problems by proposing appropriate measures. That's how the city progresses.
TT: In the book you recently published, you mention the term "Tainan brand" through which you have largely enhanced the city's visibility. What exactly is the "Tainan brand"?
Lai: To do marketing, you must first have a brand. By having a brand, there can then be a representation, and therefore a "self-awareness" to allow for successful marketing. So we first market the name "Tainan."
For instance, take the buses in Tainan. There used to be three bus companies — Sinying, Kaohisung and Singnan. We have integrated them all to be called Greater Tainan buses. It fosters a sense of identification among the Tainan residents, which then translates into support.
TT: What lies at the core of the "Tainan brand"?
Lai: Culture is the core of the "Tainan brand." Tainan is Taiwan's first city and has in its possession the richest cultural and historical assets, an aspect that's incomparable with other cities and counties. In the past four years, of course, we've employed special approaches in all the various arenas to allow for the best effects, but without a doubt, at the core of the content is culture. Particularly so in light of globalization and the competition it brings, culture is the root; if you don't have strong roots, you will be swept into oblivion by the tidal wave of international competition. When we strengthen our roots, technology acts as our wings.
TT: You have said that "without roots, there's no culture" and "without the local, there's no international." With culture as the cornerstone in your governance of the city, how then do you link it to the aspects of pro-localization education and Taiwanese identity, and highlight Taiwan's values via the promotion of Tainan's culture?
Lai: There are several aspects in answering that question. First, marketing Tainan, from local to international. Let's take a product as an example. HTC Corp spent big bucks to have Robert Downey Jr in its commercial, yet all it advertised was just "HTC (hold this cat)" [among other words Downey said "HTC" could stand for], without including any element of Taiwanese culture. Then you look at South Korean Samsung's commercial, one where it featured [South Korean star] Kim Soo-hyun biking past a pair of wings that reflected Korean culture. Taking advertisements of luxury goods such as French bags or French perfume as another example, when you watch these commercials, you can tell they are advertising French products, and so on. Highlighting a culture's "localness" does not mean airing a political view, for it is also a very important element in economic development and product marketing.
When we visit places around Taiwan or cities overseas, if I don't talk about Tainan's culture, it's like our feet are prevented from stepping any further.
Second, in terms of the cultural connotation, Tainan has a mission — which is to build Tainan as Taiwan's cultural capital and allow people who set foot in Tainan to feel like they have visited Taiwan as a whole, thereby fostering a sense of pride among Tainan residents, which Taiwanese can identify with, hence the possibility of unifying Taiwan.
I have this thought because when we were little, in classes we were required to memorize places such as [China's] Yangtze River and the Yellow River, without learning anything about our own Jhuoshuei River (濁水溪) or Tsengwen River (曾文溪). We learnt by heart what goods are the products of which provinces in China, but we were not taught where Tainan's water chestnut or Yunlin's water melons came from. This is absurd.
Therefore, we must develop Tainan into a cultural capital to allow people to know about Taiwan, and mold a sense of identity people can identify with.
To do so, we approach the historical aspect in depth and culture in all its breadth. In terms of historical depth, there is the Tsailiao Fossil Museum in [Tainan's] Zuozhen District (左鎮), where the fossils on display originated locally, including that of a woolly mammoth and Rhinocerossinensis hayasakai and various animals, as well as fossils of human skulls, which date back about 20,000 or 30,000 years ago. Then there is an archeological site in Sinshih (新市) that dates back to between 5,000 and 7,000 years ago. If one visits Anping District (安平), one can see the Eternal Golden Castle (億載金城), Anping Fort (安平古堡), Chihkan Tower (赤嵌樓) and all the historical sites. Then, there is the National Museum of History in Annan District (安南), which displays the history of ordinary people's ways of living back then. All these show the depth of Tainan's history.
Tainan's culture is also broad. For example, the four major religions in Taiwan all started out in Tainan in their early days. Kaiyuan Monastery (開元寺), Buddhism's first temple in Taiwan, is in the North District; the first church was the SinLau Hospital's affiliated church; the first Catholic church is in Houbi (後壁); and the first Daoist temple, honoring [one of the most revered Taoist deities] the Heavenly Upper Emperor (玄天上帝), is also in Tainan.
Aside from all these, we also undertake systematic planning to repair and restore historical sites and historical architecture, and cooperate with the private sector in promoting the revitalization of old houses. We also use these historical and cultural elements to promote the development of cultural innovation.
TT: You've previously announced an initiative to push the English language as Tainan's second official language. What concrete steps are being taken toward realizing this goal?
Lai: Culture is our root, and the English language is our tool, or see it as our foot, if you will. Given that language is the primary tool of communication, a lack of English proficiency hampers one from gaining an advantageous position in international competitiveness.
With culture as our roots and technology as our wings, we also need to be equipped with English proficiency to stay competitive. We've brought up this idea with the central government, which responded by saying there are difficulties [in implementing this policy]. Since Tainan was Taiwan's first city and in the early days the door to the outside world, we are willing to take the initiative, in the span of a 10-year plan, to develop Tainan into the first city [in Taiwan] that uses English as its second official language.
To actualize this goal, first we will work to build an English-friendly environment in the city.
Second, we are contemplating the idea of, as a start, designating a school where a selected number of classes would all be taught in English. Aside from providing assistance to the private sector in enhancing English skills, the city government's civic servants also ought be in step with the plan as well by working to polish their English proficiency.
Government documents are another area of focus. Right now, for example, government-issued certificates and contracts are in both Chinese and English, whereas in the past, they were in Chinese only.
It is the hope that after 10 years, Tainan city councilors will be able to question the mayor in English.
Part two of this interview will be published tomorrow.
Comments will be moderated. Keep comments relevant to the article. Remarks containing abusive and obscene language, personal attacks of any kind or promotion will be removed and the user banned. Final decision will be at the discretion of the Taipei Times.