Lai defends Chiang statues' relocation
Tainan Mayor William Lai (賴清德) yesterday defended his administration's removal of Chiang Kai-shek (蔣介石) statues from city schools, saying the move was a step toward transitional justice by freeing students from political totems and restoring political neutrality on campuses.
His comments came a day after the Tainan City Government removed statues from 14 elementary and junior-high schools.
Some residents, including former Tainan county commissioner Su Huan-chih (蘇煥智), criticized the operation as "secretive" because the schools were not notified in advance, although they were told to take photographs as proof the statues were taken down after the removal teams arrived.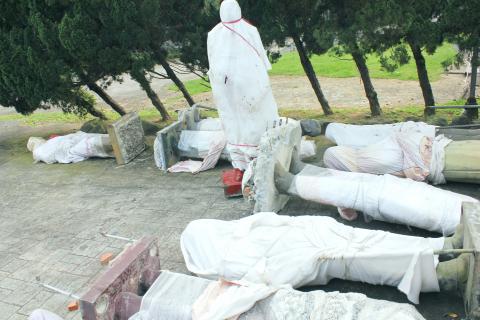 Wrapped statutes of Chiang Kai-shek that were removed from Tainan elementary and junior-high schools on Saturday lie on the ground at the Cihu Memorial Sculpture Garden in Taoyuan's Dasi District yesterday.
Photo: Lin Tzu-hsiang, Taipei Times
Su is a member of the Democratic Progressive Party (DPP), as is Lai.
"Must [the removals] be carried out in such an unthoughtful manner that may provoke conflicts," Su wrote in a Facebook post.
However, Lai yesterday reminded critics that during events last month to mark the 68th anniversary of the 228 Incident, he said that the city government would remove statues and busts of Chiang from the city's schools.
The city government did not inform school authorities of the exact date of the removal operation to avoid unnecessary conflicts or disturbing classes, he said.
The statues would be sent to Taoyuan's Dasi District (大溪), he said.
The Cihu Memorial Sculpture Garden adjacent to Chiang's mausoleum in Dasi has about 200 statues and busts of the former president that have been removed from schools, parks and other places around the nation since 2000.
Lai said the schools could decide for themselves how to use the space formerly occupied by a Chiang statue, and the city would subsidize their plans.
Meanwhile, Chinese Nationalist Party (KMT) Legislator Alex Tsai (蔡正元) and other party members criticized the Tainan City Government's removal of the statues.
Tsai said it was another example of Lai's tendency to rave about Japanese-related affairs.
"How can the greatness of Japan be demonstrated without renouncing Chiang Kei-shek?" Tsai said.
Lai does not understand that heaping praise on Japan at the expense of the Republic of China's leadership might bring the nation to destruction instead of independence, the lawmaker said.
Hsieh Lung-chieh (謝龍介), head of the KMT's Tainan chapter, said the removal of the statues was an attempt to purge an important historical figure from the public's memory.
Chiang's merits or failures should be openly discussed, but Lai is using his personal popularity and political views to polarize society, Hsieh said.
However, DPP Tainan City Councilor Chiu Li-li (邱莉莉) backed the city's action, saying the Chiang statues were products of a totalitarian regime.
Schools are where knowledge and values are passed down, and only statues representing figures that have had a positive impact on society should be placed on campuses, she said.
Chiu's colleague, DPP City Councilor Chen Yi-chen (陳怡珍), said the Chiang statues are symbols of an authoritarian regime, which should have been removed from the school campuses long ago.
Additional reporting by CNA
Comments will be moderated. Keep comments relevant to the article. Remarks containing abusive and obscene language, personal attacks of any kind or promotion will be removed and the user banned. Final decision will be at the discretion of the Taipei Times.