Luku Incident survivor pens memoir of events
'COMMUNIST BANDIT': Lee Shih-Cheng was jailed at 17, accused of taking part in 'a communist rebellion.' He was among 200 people arrested in the Luku Incident
An 80-year-old who was falsely imprisoned following the 1952 Luku Incident (鹿窟事件) has published a memoir of the dark chapter in the White Terror era on a bid to do justice to history and commemorate others caught up in the events.
The Luku Incident began with a four-month military campaign to uncover and arrest alleged "communists" said to be operating in the mountainous areas around Luku Village, which borders now-New Taipei City's Sijhih (汐止) and Shiding (石碇) districts. The action saw 35 people sentenced to death and 98 imprisoned, making it one of the harshest episodes of suppression during the White Terror era.
Lee Shih-Cheng (李石城), the author of the memoir, also financed the building of a memorial column at Sijhih's Daqijiao (大崎腳) in 2000 to commemorate an uprising organized by a group of townspeople, including his father, against the Japanese colonial government more than 100 years ago, he said.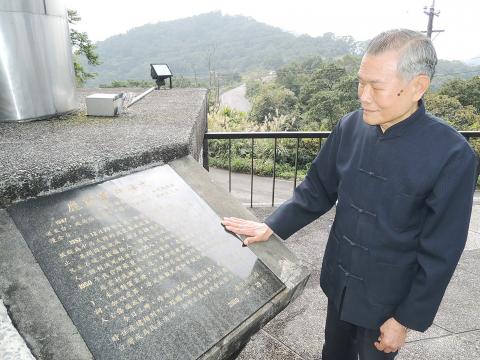 Lee Shih-cheng, author of a memoir documenting the Luku Incident, on Feb. 16 stands next to the memorial column that he financed to commemorate the incident, located in Sijhih District, New Taipei City.
Photo: Weng Yu-huang, Taipei Times
The resistance, composed of a group of untrained and insufficiently armed citizens, was met by a superior Japanese force, resulting in heavy causalities, with 99 people killed at Daqijiao. The Japanese government branded those involved in the uprising "bandits," a stigmatizing term Lee aimed to correct by establishing the column.
He was also called a "communist bandit" when he was 17 and served 10 years in prison following the Luku Incident, he said.
Lee was born to poor farmers in Sijhih and he received only two years elementary education before leaving to work on the family farm, he said.
He was underage when he was recruited by villagers, including a distant relative of his, into an armed group active in the mountains around Luku Village, he said.
He became a member of the group's "youth vanguard," but he did not do anything illegal and received no financial benefit, he said, adding that he only offered the group friendly support.
However, government forces laid siege to Luku and the surrounding areas in December 1952 to crack down on what they termed "a communist rebellion," and more than 200 people were arrested, interrogated and tortured, he said.
Lee suffered spinal injuries and lost his teeth under torture, but he denied any involvement in the so-called rebellion, knowing that an admission of guilt meant certain death, he said.
"I escaped death but not a prison term," he said.
He was given a 10-year sentence for his "involvement in a communist organization and attempt to overthrow the government," he said
The court commuted the sentence to five years as Lee was only 17, but he was not released until he was 28 — after having served the full 10 years, he said.
His mother died shortly after he was imprisoned, but he did not find out until after his release, he said.
He was originally denied employment as his identification card indicated that he was restricted from military service — usually signifying a criminal record — but a fellow villager later gave him a mining job, he said.
Having survived hard times, he went on to father a family of five, and his children are all doing well, he said.
He wrote his memoir to document the injustices of the White Terror era and pay tribute to his fellow victims, he said, adding that he taught himself to read and write during his imprisonment.
He said that history must not be forgotten so people do not make the same mistakes, and that he had learned to let go of the bitterness and resentment.
Comments will be moderated. Keep comments relevant to the article. Remarks containing abusive and obscene language, personal attacks of any kind or promotion will be removed and the user banned. Final decision will be at the discretion of the Taipei Times.