Ko vows to end Taipei's bitter green-blue conflict
'PROBLEM FIXERS AND SOLVERS': Ko also vowed to overtake Singapore in eight years, lay out a 50-year-plan for development and study urban renewal
Taipei mayor-elect Ko Wen-je (柯文哲) said he aims to make the capital city a neutral zone in the country's political battle between the pan-green and pan-blue camps, and vowed to make Taipei's competitiveness overtake that of Singapore within eight years.
In an exclusive interview with the Liberty Times (the Taipei Times' sister newspaper) on Sunday, Ko said his first mandate when taking up the mayor's post is to change bureaucratic red-tape culture of the city government, and to table the "Taipei City Plan for 2050" within one month's time.
"This 50-year vision and planned programs will be publicly circulated for feedback and participation by city residents, and the finalized plan will be settled in six months' time," Ko said.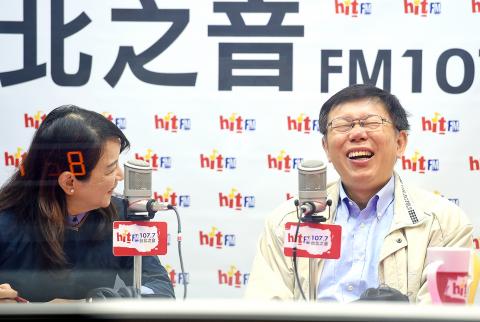 Hit FM radio host Clara Chou, left, interviews Taipei mayor-elect Ko Wen-je in Taipei yesterday.
Photo: Fang Pin-chao, Taipei Times
He promised to regularly write e-mails to city government employees to communicate his vision and ideas, to lead by example and to transform the managerial culture of the Taipei City Government.
Ko said that during his campaign, advisers told him of the numerous issues regarding urban renewal projects, and of many complaints from residents, but that nobody understood what the core problems are, "so I will personally go through three urban renewal cases, following all the proceedings, then we can get to know the main problems and set up standard operating procedures [SOP] to address then."
"I will take the SOP working concept from my medical team at the National University Hospital and introduce it into the city government. This is leading by example. We must overhaul the current bureaucratic culture, to fix problems whenever they come up," he added.
He talked about a "50-year plan" for a number of long-term development goals.
Ko listed the renewal and redevelopment plans to include the Kuangtzu land case in Xinyi District (信義), the vacated lot of Air Force Command Headquarters on Renai Road, Huan Nan Market and vegetable retail market in Wanhua District (萬華), and 50,000-unit public housing project.
"For these proejcts, we have to coordinate the urban renewal and construction sectors, mass transit system extension and other agencies into one working unit. This way we can solve all the problems at once," he said.
Ko predicts that Taiwan will not have political stability until at least after after the presidential election in 2016.
"The election result has divided Taiwan into two major political forces of about equal strength... Taiwan's political infighting is very worrisome problem, so I want Taipei to become 'neutral ground' away from all political battles," he said.
Again on this issue, Ko said that Taiwan should have the opportunity to "reset" for its revitalization. "At least this way, we hope Taipei can be relieved from the constant blue-versus-green political wrangling," he said.
"My goal is for Taipei to surpass Singapore in eight years," as Ko said city competitiveness has standard guidance on policies and implementation, for which there are indices for reference.
"My team will be problem fixers and solvers. It is not a team for campaigning, nor for fighting political battles," he said.
Ko said that a very important symbolic value arising from this election is "liberty to choose one's values," which is why he was able to convince the voters, "especially those under age of 40, they elected to choose a better set of values."
"This Taipei election was very meaningful. We see in the most advanced city, the people chose the most progressive concepts and values. Can we turn this into a new lifeline for Taiwan? This is what I shall strive for in the coming four-year term," Ko said.
Additional reporting by Tsai Ya-hua
Comments will be moderated. Keep comments relevant to the article. Remarks containing abusive and obscene language, personal attacks of any kind or promotion will be removed and the user banned. Final decision will be at the discretion of the Taipei Times.