2014 ELECTIONS: FEATURE: Saturday's elections seen as a litmus test for 2016
With fears of Beijing's influence growing, a slowing economy and a series of food safety scandals, the Chinese Nationalist Party (KMT) is facing a rough ride in the nation's biggest-ever local elections — seen as a barometer for the 2016 presidential elections.
Campaigning is well under way, with almost 20,000 candidates contesting a record 11,130 seats. From mayors to county chiefs, city councilors and village leaders, the elections on Saturday could see new appointees at every level of local government.
Campaign tactics have ranged from traditional street rallies to bizarre efforts to garner attention.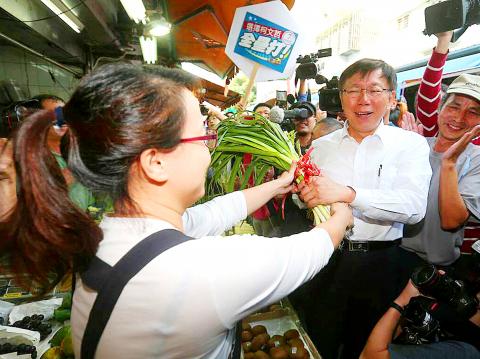 Independent Taipei mayoral candidate Ko Wen-je accepts a vendor's gift of a bunch of scallions while campaigning at Changchun Market in Zhongshan District yesterday.
Photo: CNA
The KMT's Greater Tainan mayoral candidate Huang Hsiu-shuang (黃秀霜) cast herself as a "dark horse" against her more popular Democratic Progressive Party (DPP) opponent — Tainan Mayor William Lai (賴清德) — by riding a black horse down the city's streets.
Meanwhile, independent Kaohsiung mayoral candidate Chou Ko-sheng (周可盛) stripped to his underpants on stage as he drew his candidate number, shouting: "Naked to meet you, honesty is the best policy."
It was, perhaps, an offbeat nod to the allegations of vote buying that have dogged election campaigns in some areas. Government figures say more than 2,400 people are being investigated, both candidates and supporters, mostly in rural locations. Two suspects were detained on Friday last week accused of bribing college students in a county council election.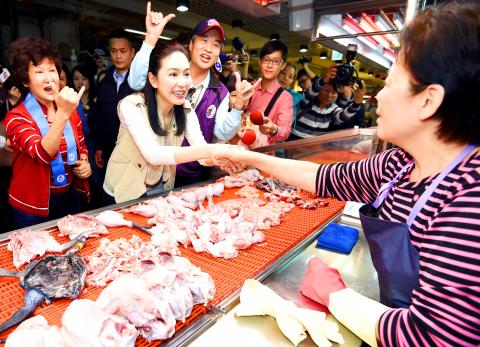 Chinese Nationalist Party (KMT) Taipei mayoral candidate Sean Lien's wife, Patty Tsai, left, shakes hands with a meat vendor while campaigning for her husband at Xinglong Market in Wenshan District yesterday.
Photo: George Tsorng, Taipei Times
"The public feels apathetic over the vote, so candidates are resorting to publicity grabbing tactics, rather than focusing on critical issues," a KMT official said, who did not want to be named.
The vote comes at the end of a turbulent year which saw the legislature occupied in March by the Sunflower movement following President Ma Ying-jeou's (馬英九) handling of the cross-strait services trade agreement.
Ties with Beijing have warmed since the KMT came to power in 2008, with trade booming and millions of Chinese tourists visiting the nation each year.
However, the improved relationship has led to anxiety that the nation is too reliant on China.
More than 12 million people are eligible to vote in the five special municipalities and Taoyuan County, which is due to become the sixth special municipality on Dec. 25, out of the nation's total population of 23 million.
Stagnant incomes and soaring housing prices are a major source of complaint among voters, particularly for younger generations. The KMT is also under fire over a string of food safety scandals, the latest of which prompted the resignation of the minister of health and welfare after more than 1,000 restaurants, bakeries and food plants were found to have used adulterated cooking oil.
"The KMT has even seen their support from the military, teachers and government employees — who have long been stalwarts of the party — shaken after cuts to their pensions and benefits," National Chengchi University social science professor Tung Chen-yuan (童振源) said.
Currently, the KMT is dominant in Taipei, New Taipei City, Taoyuan and Greater Taichung, while Greater Tainan and Greater Kaohsiung are traditionally DPP strongholds.
"I believe lots of young people would prefer to vote for the DPP, who have more reformist ideals," Shih Yen-ting, a graduate student who participated in the Sunflower movement, told reporters.
A long-time KMT supporter, Claudia Wu, said she would abstain to reflect her disillusionment.
"I'm not going to vote this time as I was really disappointed in the poor performance of the government," said Wu, who works for a construction company in Taipei. "Food safety is the most basic demand from the people. The government has to fill the people's stomachs."
The DPP has said the local elections are an important prelude to 2016 presidential elections, calling on supporters to cast a "no-confidence" vote.
The KMT-sponsored think tank the National Policy Foundation also emphasized the significance of Saturday's local elections.
"If the results substantially change the present political landscape, they could impact the 2016 presidential vote," it said in a research paper, "and even influence Taiwan's political ecology in the next 10 years."
Additional reporting by staff writer
Comments will be moderated. Keep comments relevant to the article. Remarks containing abusive and obscene language, personal attacks of any kind or promotion will be removed and the user banned. Final decision will be at the discretion of the Taipei Times.