FEATURE: Kinmen leads the way with ecotours
LOW-CARBON EXAMPLE: Kinmen offers eco-friendly tours as part of a government drive aimed at making the island into a place with zero-carbon emissions by 2030
Electric carts packed with tourists twist and turn their way past farmland and alleyways, stopping at war museums, former military facilities and scenic spots, giving visitors a glimpse of Kinmen's wartime history and natural beauty.
The route is one of three electric cart tours offered in Kinmen, which has been designated one of the nation's "exemplary low-carbon islands."
The two-hour guided tour of northwestern Kinmen stops at the Guningtou War Museum, which commemorates the 1949 Battle of Guningtou.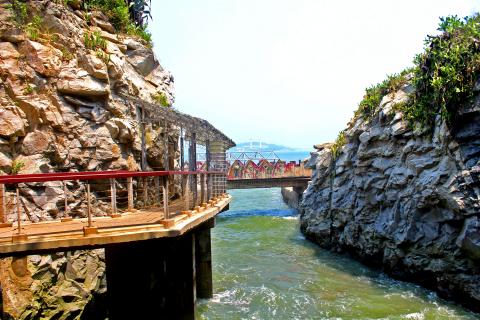 Structures forming part of a complex that was formerly used to carry military and other supplies are seen in a cove on Lieyu island in Kinmen County on Monday last week.
Photo: CNA
The other major stop is at Beishan Broadcasting Station, a three-story-high concrete structure holding 48 loudspeakers that were used to broadcast propaganda across the Taiwan Strait to China until the late 1970s. The station is located on a cliff 6.4km from China.
The tour, introduced in 2012, also takes visitors to traditional residential communities, rock-oyster farms, wetlands and a peace memorial park. At present, the cost is only NT$10 (US$0.33) per person, as the local government is seeking to promote green-energy choices such as the electric carts in an effort to turn Kinmen into a model low-carbon island.
"The electric carts are environmentally friendly and take visitors to places such as Beishan Broadcasting Station and Beishan Settlement, which are not easily accessible by buses and cars," Kinmen County Tourism Department section chief Chen Ming-ling said.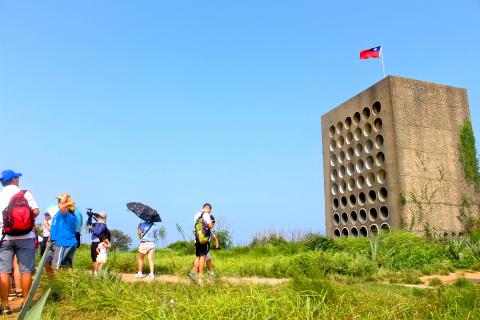 Tourists on Monday last week visit the Beishan Broadcasting Station in Kinmen County.
Photo: CNA
The tour brings business to shops and vendors in traditional communities, which were not previously frequented by ordinary tourists, she added.
"Many shop owners have told us that business has improved," Chen said, adding that the electric cart tours are fully booked every day in the summer.
In May, two similar tours were launched on Lieyu (烈嶼), also known as Little Kinmen, one to war relic sites and a landmine museum, and the other to temples and other cultural and historic sites. The Lieyu tours cost NT$100 per person but customers receive an NT$50 "carbon coupon" that can be used at participating stores on the island.
For visitors who wish to travel around Lieyu by themselves, there is an eco-friendly option. A fleet of 100 electric scooters is now available for rent at Jiugong Pier in Lieyu. Non-Kinmen residents are charged NT$150 and locals NT$100 for the first four hours of use and NT$10 per hour afterward. Rental of the scooters also comes with a NT$50 carbon coupon per scooter.
Tina Wu, who works at the company that was commissioned by the county government to run the electric scooter rental service, said the new service has become popular among visitors to the island.
"The scooters save gas money, do not create air pollution, and are convenient, light and quiet," Wu said.
As of the end of last month, more than 3,100 people had taken the Lieyu tours, the head of Kinmen County's Environmental Protection Bureau Yang Shih-hung (楊世宏) said.
Since May, the electric scooters have been rented more than 3,900 times, he added. As part of the county government's efforts to help local industries and households use green energy, about 3,200 solar-powered water heating systems were installed on the island last year, he said.
In addition, all of the street lights in Lieyu and more than 50 percent of those in Greater Kinmen have been changed to more environmentally friendly LED lights, he said.
The idea of making Kinmen an exemplary low-carbon island came out of the 2009 National Energy Conference. The objective was to create two low-carbon communities in each city and county in Taiwan within two years, four low-carbon cities and two low-carbon islands by this year, and four low-carbon living circles in northern, central, southern and eastern Taiwan by 2020.
The government and private sector also earmarked more than NT$4.3 billion last year for a six-year project to reduce Kinmen's carbon dioxide emissions. The plan is to gradually build Kinmen into an island with zero-carbon emissions by 2030, according to the Environmental Protection Administration.
The agency estimated that the Kinmen project would generate NT$821 million in economic benefits per year and reduce emissions by 600,000 tonnes over the six-year period.
Visitors to the island seem to find its green focus appealing.
"It is eco-friendly and visitors can see the different faces of Kinmen, which are very different from Taiwan proper," said Jimmy Liang, a first-time visitor to Kinmen who took the Guningtou tour.
Comments will be moderated. Keep comments relevant to the article. Remarks containing abusive and obscene language, personal attacks of any kind or promotion will be removed and the user banned. Final decision will be at the discretion of the Taipei Times.