'Lucy' draws crowds on opening day
French director Luc Besson's new action thriller Lucy opened in Taiwan yesterday, with the film's local distributor estimating that it would break the NT$24 million (US$800,280) mark on the first day of its local release.
Universal Studios Inc has also predicted that the film's first-week gross will reach NT$125 million, but said an accurate figure for the first-day box office gross will not be available until the next day.
The film, starring US actress Scarlett Johansson, is something of a rarity — one of the few major Hollywood productions to be shot mainly in Taiwan.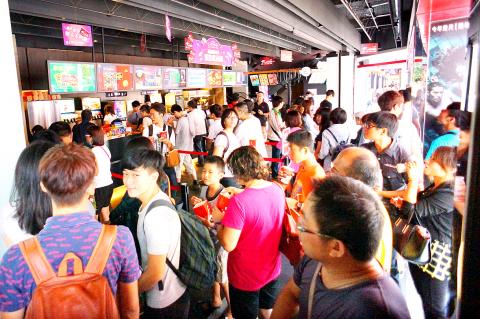 Crowds of people swarm into a local movie theater to see director Luc Besson's new film, Lucy, yesterday, the first day of its local release.
Photo: CNA
Of the film's 89-minute running time, more than half takes place against Taipei landmarks, showing off sites such as the Taipei 101 skyscraper, the Taipei Railway Workshop and the Regent Taipei hotel.
Even the country's national flag gets a showing, not an easy feat given China's attempts to isolate Taiwan.
The film also depicts one of the city's best-known delicacies — steamed dumplings called xiaolongbao.
Johansson plays the leading role as an American woman living and studying in Taipei who is forced to become a drug mule for gangsters.
She is accidentally exposed to the drug, which unlocks the "full potential of her brain" and transforms her into a superhuman fighting machine.
The movie has helped boost Taiwan's popularity amid the country's efforts to bring itself to the world stage, the Wall Street Journal said in a report on Tuesday.
While different sites in Taiwan have appeared in foreign films before, none have put Taipei front and center stage like Lucy , the article said.
"Scarlett Johansson may be the leading lady in French director Luc Besson's new thriller Lucy , but for many Taiwanese movie watchers, the film's real star is the city of Taipei," it said.
The Taipei Film Commission, which played a significant role in persuading Besson to film in the city, was cited as saying that since 2008, 267 foreign films have shot scenes in Taipei and the trend is expected to grow.
Comments will be moderated. Keep comments relevant to the article. Remarks containing abusive and obscene language, personal attacks of any kind or promotion will be removed and the user banned. Final decision will be at the discretion of the Taipei Times.