Scientists celebrate 10 years of images from FORMOSAT-2
Celebrating 10 years since FORMOSAT-2 — the first Earth observation satellite developed in Taiwan — was launched, the National Applied Research Laboratories' National Space Organization (NSPO) said yesterday that a series of conferences and exhibitions are to be held to let the public know more about its contribution to the nation.
At a press conference at the Ministry of Science and Technology, NSPO Director Chang Guey-shin (張桂祥) said since FORMOSAT-2 was launched in California on May 21, 2004, it has orbited the Earth 50,435 times and taken pictures of 112,652km2 of the planet's surface.
He said that although the satellite was originally designed to last five years, it has performed well beyond its worth, providing valuable images for scientific research, environmental monitoring, natural disaster prevention and evaluation, urban planning and other applications for the past 10 years.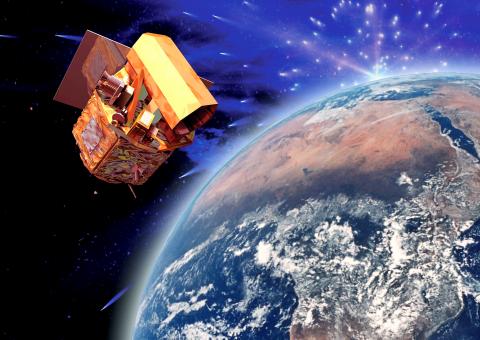 A simulated picture of the FORMOSAT-2 satellite released by the National Space Organization in Hsinchu City yesterday shows the satellite in orbit.
Photo courtesy of the National Space Organization
FORMOSAT-2 is not the only the first satellite developed and operated by the NSPO, it is also the only satellite in the world that pays Taiwan a "daily revisit" — taking images twice a day of a location within its fixed orbit, Chang said.
The satellite, used for academic and non-commercial purposes, can capture images of about 80 percent of the planet's surface, including polar areas that most commercial satellites do not cover, which is helpful in understanding the melting ice at the poles and its relation to climate change, he said.
The satellites most important contributions were providing the earliest images after the huge tsunami struck Southeast Asia in 2004, the magnitude 7.8 earthquake that struck China's Sichuan Province in 2008, Typhoon Morakot, which devastated southern Taiwan in 2009, as well as the tsunami that engulfed northeastern Japan in 2011.
Images taken by FORMOSAT-2 that showed a barrier lake which formed after the Sichuan earthquake were sent to the Chinese government and the water was immediately dredged to prevent further disaster, Chang said, adding that images taken in northeastern Japan for two weeks after the tsunami struck were sent to the Japanese government for flood evaluation.
The NSPO said a conference is to be held on Wednesday next week in Taipei and public exhibitions are to be held in northern, central and southern Taiwan, starting at the National Taiwan Science Education Center in Taipei on May 24.
Comments will be moderated. Keep comments relevant to the article. Remarks containing abusive and obscene language, personal attacks of any kind or promotion will be removed and the user banned. Final decision will be at the discretion of the Taipei Times.