FEATURE: No way out for homeless amid Taiwan's wealth gap
With an advertising sign in his hands, Liao Chin-chang stands wearily at an intersection near a new luxury apartment building in Taipei, trying to earn money as a walking billboard for the type of property most Taiwanese could never afford.
The sight of homeless people holding placards for elite properties at street corners is becoming increasingly common in Taiwan's capital, providing a harsh illustration of the island's gap between the haves and have nots.
The 51-year-old former taxi driver, who became homeless a decade ago, is among the growing number of victims of a struggling economy, many of whom have been forced out of their homes after losing their jobs.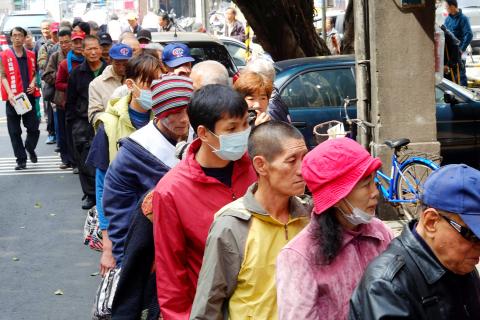 Homeless people line up for free food outside the Grace Home Church in Taipei on Feb. 26.
Photo: Sam Yeh, AFP
While the luxury apartment Liao advertises is expected to sell for more than NT$100 million (US$3.33 million), property prices in general are beyond reach for many regular salary-earners with an average monthly income of less than NT$40,000.
For people like Liao, even renting a room is out of the question.
"I can't even afford to pay the rent since I lost my job 10 years ago. I've only saved NT$4,000 from doing odd jobs all these years, which is not enough to rent a small room for one month," Liao said.
In recent years, the gap between the rich and poor has widened rapidly, reaching a record level in 2011 as the wealthiest families earned 96 times more than the poorest.
It has coincided with a slowing economy, partly driven by the relocation of manufacturing industries to cheaper foreign countries, such as China and Vietnam, resulting in the loss of tens of thousands of blue collar jobs.
This has been compounded by limited retraining opportunities and a low minimum wage of less than NT$20,000 per month, said Lin Wan-i (林萬億), a professor at National Taiwan University's Department of Social Work.
Meanwhile, low taxes have benefited the wealthy, while limiting the amount of revenue available for the government to spend on social security, Lin said.
Social workers say the chances of Taiwan's homeless getting back on their feet are slim, given the competition for long-hour, low-paying temporary jobs.
"People are fighting for every job opportunity during the economic downturn," Zenan Homeless Social Welfare Foundation public relations director Li Ting-ting (李婷婷) said. "There is competition with young people or housewives even for a temporary placard-holding job."
The bottom 5 percent of families reported an average annual income of NT$48,000, compared with NT$4.63 million earned by the top 5 percent in 2011, based on income tax filings.
Taiwan has made efforts to address wealth inequality, while initiating plans to rein in soaring property prices and hike taxes for the wealthy, which has helped narrow the gap between rich and poor since the 2011 record.
However, the plight of the underclass is becoming an increasingly frequent theme in the media, including the recent story of an eight-year-old living in a graveyard with her cash-strapped parents for more than a year after they were evicted by their landlord. Social workers eventually intervened, but the girl and her Vietnamese mother were later deported.
Observers have cited the wealth gap as a factor driving recent anti-government protests that occupied the parliament's main chamber earlier this year.
Taiwan has moved to levy a so-called "rich man's tax" on nearly 10,000 of the nation's wealthiest people in a bid to narrow the income gap and ease growing public anger. The proposal passed an initial screening in parliament earlier this month.
However, Lin warned that income disparity will widen further.
"The gap will continue as the next generations inherit wealth, while the poor have little chance to turn their situations around, with less money for their children," Lin said.
The private Grace Home Church currently runs 27 centers across Taiwan serving two free meals a day six days a week to up to 2,000 homeless and disadvantaged people daily, Pastor David Lee (李大衛) said.
"There are more and more people coming to our centers these days. We hope they can have enough to eat and some peace of mind here before they can think of the next step in their lives," Lee said.
A decade ago, the church ran one facility serving just 80 people and it now plans to open more than 30 new centers to meet growing demand, Lee said.
Huang Ding-hsin, a 65-year-old estranged from his family, is a newcomer to the streets in Taipei's Wanhua District (萬華), where hundreds of homeless people gather. He lost his job due to an eye aliment several months ago.
"I can only get by each day at a time and do any work I can find while I still have strength," he said.
"I buy lottery tickets with the little money I make as it's my only hope to ever have a roof over my head again," Huang added, lining up with 60 other people for free boxed meals given out by a charity.
Comments will be moderated. Keep comments relevant to the article. Remarks containing abusive and obscene language, personal attacks of any kind or promotion will be removed and the user banned. Final decision will be at the discretion of the Taipei Times.