Group eyes child abuse
EXPERIENTIAL LEARNING: As part of its ongoing effort to establish Child Protection Day, an advocacy group let people feel the powerlessness that abused kids survive
In order to allow people to understand the feelings of children who have been abused, the Taiwan Fund for Children and Families (TFCF) yesterday organized an event at Taipei Railway Station for people to experience the psychological torment by covering their eyes while broadcasting cries for help from children.
TFCF said an average of two incidents of child abuse are reported every two hours, although the actual numbers may much be higher. The TFCF marks April to June each year as its Child Protection Promotion Season, and is advocating to get Monday recognized as Child Protection Day, to raise public awareness of child abuse.
To advertise its campaign, TFCF organized road running events across the nation, starting in Kinmen on April 10 and arriving in Taipei yesterday. Meanwhile, another run is to be held in Hualien today.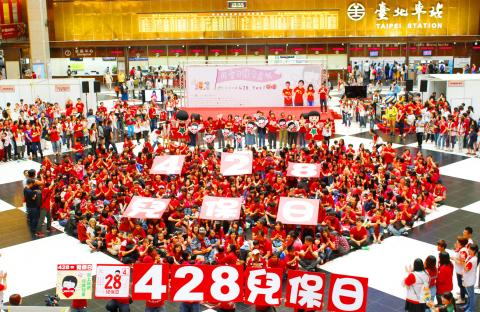 Participants in an event organized by the Taiwan Fund for Children and Families sit in the shape of a heart at the Taipei Main Railway Station to mark Child Protection Day, which is tomorrow.
Photo: CNA
"With our Child Protection Day campaign, we hope to urge parents to show more care for their children, to protect their children and hug their children more often," TFCF executive director Ho Su-chiu (何素秋) said. "We would also like to remind the public to refrain from beating your children. Whenever a problem occurs between you and your kid, remember not to get angry, close your eyes to calm yourself down, call the TFCF hotline 0800-078-585 to seek help. Hug your kid, and give them a smile."
The TFCF also arranged an event in which voluntary participants could have their eyes covered and listen to the crying and shouting of abuse victims, so that participants would be able to feel the mental pressure of children suffering from domestic violence.
Child Protection Ambassadors singer-actress Amber An (安心亞) and child star Chiao Chiao (喬喬) also took part in the experience session. Chiao Chiao, who portrayed an abuse victim in a recent film, urged adults not to beat children.
Ho said that the TFCF has been working on the child protection campaign for 27 years. Last year, a total of 16,000 child abuse cases were reported, but the group estimates that the actual number may be as high as 80,000. At the moment, there are 3,760 abused children and young adults who need special counseling service.
Comments will be moderated. Keep comments relevant to the article. Remarks containing abusive and obscene language, personal attacks of any kind or promotion will be removed and the user banned. Final decision will be at the discretion of the Taipei Times.