Laughter yoga helping the sick
NEW LIFE: Laughing hard increases endorphine release, improves people's mood, enhances their immune system and reduces stress hormones, a Taichung doctor said
More than 70 percent of the 30 cancer patients in a laughter yoga program reported sleeping better, experiencing less pain and feeling less depressed after taking some classes, Taichung Hospital said recently.
Laughter yoga teaches people to laugh hard, which increases endorphin release, helps improve their emotional well-being, enhances their immune system, and reduces inflammation and stress hormones, said Liao Chih-Ying (廖志穎), director of the hospital's radiation oncology department.
Liao, who introduced laughter yoga from the US to the hospital in October last year, said most cancer patients experience different degrees of post-traumatic stress disorder, with about 40 percent suffering depression, anxiety, insomnia or chronic stress when they experience pain or are undergoing treatment.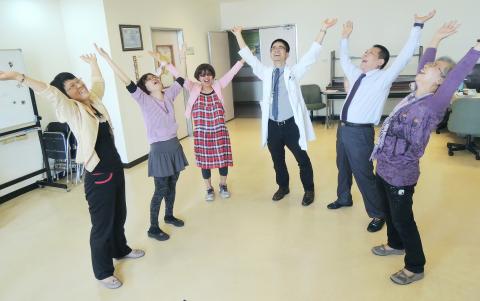 Taichung Hospital radiation oncology department director Liao Chih-Ying, third right, participates in a laughter yoga session with cancer patients on Friday last week in Greater Taichung.
Photo: Tsai Shu-yuan, Taipei Times
The increase in stress hormones, adrenaline and inflammation-
related genes also weaken their immune system, allowing cancer cells to become more aggressive and enhancing the risks of cancer metastasis, he said.
Laughter yoga leads to the release of endorphins and fake laughter can gradually become real laughter through constant practice, he said.
The endorphins can help relieve stress, improve their mood and immune system, and even prevent the recurrence and spread of cancer, he added.
The hospital invited yoga teacher Lai Ching-ju (賴晴如) to give a one-hour class to cancer patients every week, and after two months, about 70 percent of the participants reported improvements in their problems with sleeping, pain, fatigue, anxiety and depression.
A 48-year-old woman surnamed Hsieh (謝), who owns a cram school and teaches English and essay writing, said she used to work more than 10 hours a day, but was seldom sick, so she found it hard to believe after she was diagnosed with breast cancer last year.
She underwent surgery and chemotherapy, and suffered from depression and bipolar disorder, losing about 10kg in six months because of the side effects of the treatment. She often locked herself in a room crying, throwing things around, slamming her body against the wall and collected sleeping pills as she contemplated suicide.
When the hospital's volunteers invited her to attend the laughter yoga class, she could not laugh at all at first. However, by starting first with fake laughs, playing games and practicing meditation, she was able to laugh from the heart during the second class and gradually laughed harder, regained her appetite and continues practicing at home.
She imagined her body completely recovered, read jokes on the Internet and has become truly happy, always greeting people with a smile, Hsieh said.
Laughter yoga has helped improved her relationship with her family and encouraged her to travel, Hsieh said, adding that she has learned to be grateful to the sickness that has turned her life around.
A restaurant owner surnamed Wang (王), who was diagnosed with Stage 3 gastric cancer two years ago, had to have two-thirds of his stomach removed, and went through electrotherapy and chemotherapy. Wang said he thought he was "almost about to die" because he could not eat anything.
He said he was always in low spirits, but later thought he might as well try laughter yoga as a last resort.
"I found out that I wanted to laugh as much as I could, to laugh away the cancer cells and that I would rather die laughing than crying," Wang said.
"Now, I feel happy all the time, doing volunteer work, Chinese calligraphy, practicing taichi and living an enriched life," he added.
Comments will be moderated. Keep comments relevant to the article. Remarks containing abusive and obscene language, personal attacks of any kind or promotion will be removed and the user banned. Final decision will be at the discretion of the Taipei Times.