Gay activists slam 'special' rules
SAME-SEX LABEL: The group said that rules for marriage between a woman and a man should be extended to cover same-sex marriage and no special rules created
Gender rights advocacy groups yesterday condemned former Democratic Progressive Party chairman Lin I-hsiung (林義雄) over his comments that there should be special legislation for same-sex marriages, so that people do not confuse them with "traditional" marriages.
Speaking about same-sex marriage in his new book, Lin said that "Although we do not understand why people of the same sex would fall in love and develop a desire for each other, we should respect it as something private between the two people."
He added that he believes same-sex marriage and child adoption by same-sex couples should not be banned, but it would be better if there were separate legislation for the "new type of union" so that it would not be confused with the traditional version.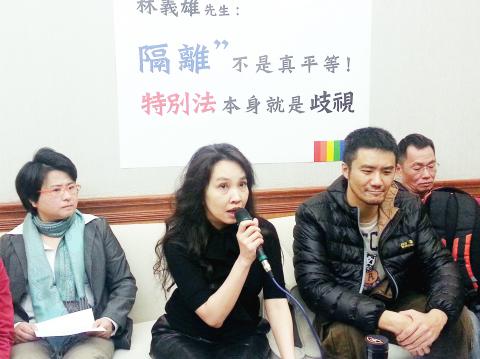 Shih Ming-te Foundation chairperson Chen Chia-chun, second left, speaks during a press conference at the legislature in Taipei yesterday.
Photo: CNA
"Traditionally, 'marriage' is defined as a union between a man and woman, but we believe that everyone — regardless of sexual orientation — should enjoy equal rights. That is why we are pushing for amending the Civil Code to allow same-sex marriage," Taiwan Alliance to Promote Civil Partnership secretary-general Chien Chih-chieh (簡至潔) told a news conference in Taipei yesterday.
"Since equality in the right to be married is the central idea of the campaign, we would not accept separate legislation, because such legislation would still be discrimination and putting a label on same-sex couples," she said.
Chien said that in many nations, such as Canada and New Zealand, same-sex marriage has been legalized by revising the definition of marriage from "the union between a man and woman" to "the union between two people" in laws.
"If other countries can do it, so can we," Chien said.
"You may think people could be separate but equal, but segregation is not equality at all," she added.
The alliance's executive director Victoria Hsu (許秀雯) said that having a separate law for same-sex marriages would only deepen discrimination and would not help enhance social harmony and diversity.
"Equality is not putting differences aside, but recognizing and embracing them," she said.
Gay rights activist Shen Ying-chun (沈盈君) said that she was disappointed by Lin's remarks.
"As a lesbian, I feel disappointed to see your [Lin's] remarks," Shen said. "As a respected democracy activist, do you really think it is a democratic value to put people into two different categories?"
Shih Ming-te Cultural Foundation executive board director Chen Chia-chun (陳嘉君) said that activists are worried about the impact of Lin's remarks, as he is a respected figure in society.
"When Lin calls same-sex marriage a 'new type of union,' I want to correct him because homosexuality is not a new creation. It has long existed in human history, and has been recorded in ancient texts and carved onto stone plates in ancient Egypt, Greece and China," Chen said.
Comments will be moderated. Keep comments relevant to the article. Remarks containing abusive and obscene language, personal attacks of any kind or promotion will be removed and the user banned. Final decision will be at the discretion of the Taipei Times.