FEATURE: Air pollution reason for concern: groups
While winter temperatures usually drop with the arrival of northeastern winds that sweep across western Taiwan, people may have also noticed worsened air quality, or even experienced mild symptoms of eye irritation, sneezing or coughing in the past months.
The Environmental Protection Administration's (EPA) Department of Environmental Monitoring and Information Management Director Chu Yu-chi (朱雨其) said the department's data showed that there have been seven haze and dust storms since December last year.
According to data from the EPA's air quality monitoring network, the concentration levels of particles under 2.5 micrometers in diameter (PM2.5) detected at nearly all of the nation's 76 monitoring stations rose drastically as air pollutants were brought in from China by strong winds.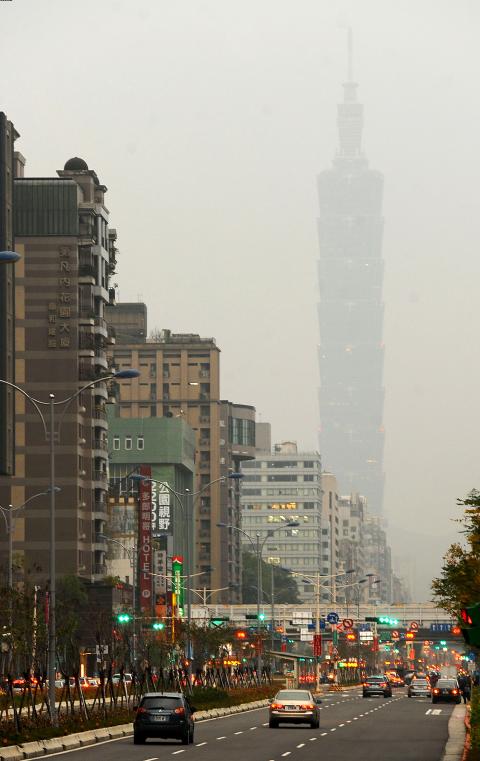 The Taipei 101 is shrouded in smog brought by a cold front from China on Dec. 10 last year.
Photo: Wang Min-wei, Taipei Times
On Dec. 10 last year, PM2.5 levels detected at 72 stations surpassed 80 micrograms per cubic meter (μg/m3).
The nation's daily average and annual average PM2.5 concentration standards are set at 35μg/m3 and 15μg/m3 respectively.
When obscured by cross-border haze, the pollution standards index (PSI) readings — which are based on the highest concentration value of five major air pollutants PM10 (particulate matter 10 micrometers or less in diameter), sulfur dioxide, nitrogen dioxide, carbon monoxide and ground-level ozone — at most stations reached unhealthy levels and a few in central and southern Taiwan reached hazardous levels.
The EPA's data also showed that the nation's average PM10 level of 64μg/m3 and average maximum readings of 256μg/m3 in December last year were higher than those of the same month in the previous two years — 53μg/m3 and 163μg/m3 in 2012, and 50μg/m3 and 150μg/m3 in 2011.
Currently, the standards for daily average and annual average PM10 concentration levels in Taiwan are set at 125μg/m3 and 65μg/m3 respectively.
"The two main factors considered when determining whether the air pollutants are from cross-border pollution are recent weather phenomena and monitoring data on the air pollutant levels in China's major cities," Chu said, adding that "generally speaking, these situations [of worsened air quality caused by air pollutants from China] occur every winter."
However, he said the department has noticed that the frequency and concentration of elevated pollution levels detected this year have been slightly higher than previous years.
Air pollutant levels detected at stations located in Yunlin, Chiayi and Greater Tainan often topped the list of stations, the EPA department's Deputy Director Chang Shuenn-chin (張順欽) said, adding that this was because fugitive dust — particles suspended in the air by wind action and human activities — at riverbanks during the low-flow season of winter are swept up by the strong northeastern winds.
"The fugitive dust at Jhuoshuei River (濁水溪) during the northeastern monsoon season is not a new phenomenon," he said.
He added that the frequency and scale of Choshui River fugitive dust have increased in recent years, clearly worsening air quality in central and southern areas.
Analyzing the readings from various agencies, the department discovered that when strong earthquakes above magnitude 5, such as the magnitude 7.3 921 Earthquake in 1999, shake loose soil on upstream slope areas, which is then washed downstream by torrential rains during the summer, land collapse and mud slides are likely, which creates dust on riverbanks, Chang said.
"When wind speeds exceed 3 meters per second, gusts of fugitive dust with PM10 concentration levels above 250μg/m3 are likely to occur," he said.
The EPA's monitoring data showed that the maximum reading of PM10 concentration levels soared up to 2,532μg/m3 in Yunlin County's Lunbei Township (崙背) and 1,793μg/m3 at Chiayi County's Puzih City (朴子) in 2009, and to 582μg/m3 at Puzih and 497μg/m3 at Lunbei last year.
Chang said that the causes are closely related to heavy rainfall and mudslides during Typhoon Morakot in 2009 and a magnitude 6.3 earthquake that occurred in Nantou County in June last year.
Civic groups and lawmakers have repeatedly called for stricter standards and solutions amid increased exposure to high levels of PM2.5 that are suggested in scientific studies to be linked with numerous health problems — including asthma, bronchitis, acute and chronic respiratory symptoms, and even premature deaths — and PM10 in recent years.
The EPA began following Japan's move to issue warnings when the PM2.5 level reaches more than 80μg/m3, as the elderly, young children, and people with lung, throat, nose or respiratory problems are more at risk when daily average PM2.5 concentration levels exceed 70μg/m3.
During a committee meeting earlier this month at the legislature in Taipei, the EPA agreed to formulate the Air Quality Index (AQI) that will further include PM2.5 readings and an 8-hour average of ozone.
However, Taiwan Healthy Air Action Alliance founder Yeh Guang-peng (葉光芃) said that although the government is moving in the right direction, "its pace is always too slow. It only agrees [to take action] when we [civic groups] push it."
Government data from Switzerland showed that an estimated 3,700 people die each year from causes related to air pollution, he said.
"Considering that Switzerland's average PM10 concentration level is about 20μg/m3, the question is how many people will be affected when the levels reach 70μg/m3 in Taiwan," Yeh added.
Yeh said that while Japan and South Korea are beginning to work together to combat air pollution, the Taiwanese government has not done enough to combat pollution and should communicate with China on how to control dust storms and haze.
He added that air pollutant levels should not be blamed solely on cross-border transfer or extreme weather, because long-term collection and comparison of air quality data from Taiwan and other countries showed that Taiwan's concentration levels of PM2.5 and PM10 were often higher than those of many other countries.
Yeh said that although he was aware that it would not be easy to reach the ideal levels immediately, civic groups felt that the government has not been sincere enough in its efforts to push for stricter regulations and in planning solutions to improve air quality.
Comments will be moderated. Keep comments relevant to the article. Remarks containing abusive and obscene language, personal attacks of any kind or promotion will be removed and the user banned. Final decision will be at the discretion of the Taipei Times.