High-speed commuter train begins, travels 130kph
The long-awaited fast new EMU800 commuter trains are scheduled to launch its first services tomorrow, the nation's railway operator said yesterday.
The trains successfully passed all safety tests.
Taiwan Railways Administration (TRA) Deputy Director-General Chung Ching-da (鐘清達) said commuters between Keelung and Hsinchu, and between Chiayi and Pingtung, would be the first to enjoy the higher speeds of 130kph that the new trains offer.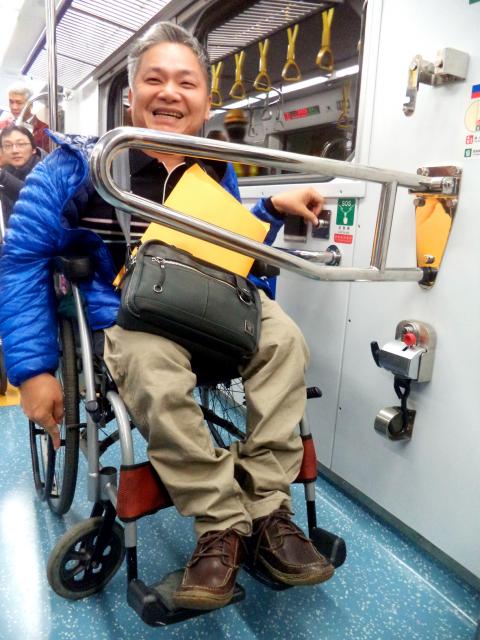 Access for All Association secretary-general Hsu Chao-fu yesterday tried out features on an EMU800 commuter train in Taipei.
Photo: CNA
In 2011, TRA purchased 296 EMU800 train carriages from Japan to meet rising demand.
"The trains will also replace some of the really old trains used for the Chukuang Express, which do not have automatic doors," he said.
Chung said a further seven trains would be operational toward the end of the Lunar New Year holiday, with all train carriages to be in service by 2016.
TRA transportation department director Du Wei (杜微) said that every day 190,000 passengers travel between Keelung and Hsinchu, and 120,000 between Chiayi and Pingtung section.
Hsieh Ching-kuen (謝進崑), a section chief of TRA's transportation department, said each eight-carriage set has 352 seats and can accommodate 910 standing passengers.
Hsieh said the foldable seats in carriages one and eight have been designed to make room for passengers in wheelchairs and cyclists, with larger, barrier-free toilets for passengers in wheelchairs.
Priority seats make up 25 percent of the total seats, which is 10 percent more than the legal requirement, he said, adding that the priority seats have handles on both sides, and the floor surrounding them is painted yellow with a high-friction surface.
Tang Feng-cheng (唐峰正), chairman of the Foundation of Universal Design Education, was yesterday invited to test ride the new train.
Tang, who survived polio, said the designs would give many people with disabilities the freedom to travel around the nation by train.
Access for All Association secretary-general Hsu Chao-fu (許朝富), another invited guest, said after boarding the train yesterday that he can easily push his wheelchair to a reserved spot and buckle up without assistance.
"In the past, you had all these safety belts around you, which made you look like you were strapped to the spot," he said. "Now, all you have to do is buckle the wheelchair."
However, Hsu added that the handles in the wheelchair zone were positioned too high.
Comments will be moderated. Keep comments relevant to the article. Remarks containing abusive and obscene language, personal attacks of any kind or promotion will be removed and the user banned. Final decision will be at the discretion of the Taipei Times.