'Paradise Road' not abuse: legislature
LAWMAKERS: Amendments were passed to define 'abusive acts' in the military, pay for emergency care for the poor and give pensions to working foreign spouses of Taiwanese
The Marine Corps' grueling "Paradise Road" test to win Amphibious Reconnaissance and Patrol Unit certification was listed as a reasonable training maneuver and not mistreatment under an amendment to Criminal Code of the Armed Forces (陸海空軍刑法) passed by the legislature yesterday.
To pass the test, trainees must crawl along a 50m-long rock and coral-filled path and complete a variety of exercises along the way.
It is considered "necessary training" to for service personnel who hope to become frogmen.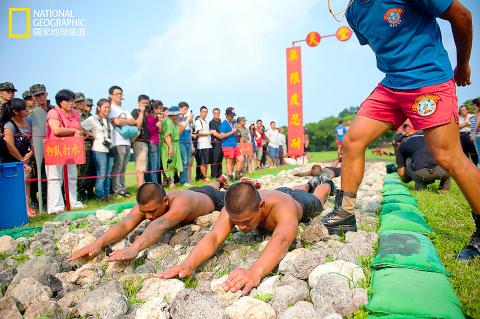 People watch marines crawl along a 50m-long path strewn with rock and coral, known as "Paradise Road," in an undated photograph.
Photo courtesy of the National Geographic Channel
The "Paradise Road" test is the final stage of a 10-week intensive training session that recruits for the marine's Amphibious Reconnaissance and Patrol Unit have to undergo that challenges their fitness and resilience to the limit.
In the wake of the death of 24-year-old army corporal Hung Chung-chiu (洪仲丘), who died on July 4 last year after being forced to exercise as punishment for taking a smartphone onto his base, there has been widespread public discussion about reforming the military's management system, as well as other cases of abuse to men serving their mandatory conscription service.
The Executive Yuan proposed the amendment that passed yesterday to establish a definition of "abuse" in the hopes of prevent a recurrence of the Hung tragedy, because the code did not give any guidance on what kind of behavior by commanders would constitute an abuse of subordinates.
The amendment stipulates that inhuman treatment of service personnel in excess of what is necessary for education, training, service or combat and insults the nation's military forces shall be considered "abuse."
Under the amendment, the Ministry of National Defense must draw up bylaws to define what is necessary for education, training, service and combat.
Meanwhile, lawmakers passed an amendment to the Medical Care Act (醫療法) to expand the government's assistance to patients from low-income to low-and-middle income families who need of emergency medical treatment.
The amendment requires hospitals and clinics to provide emergency medical care to patients regardless of their ability to pay for such treatment.
It also requires municipal and county social administrative authorities to provide subsidies to such patients to help them pay for such treatment.
Previously the act's requirement mandating hospitals and clinics provide emergency treatment only applied to people from low-income families.
Lawmakers also passed an amendment to the Labor Pension Act (勞工退休金條例) that requires employers to make monthly deposits into retirement funds for foreign employees who are married to Taiwanese and who hold residency and work permits.
The deposit shall be equal to 6 percent of the employee's wages.
Comments will be moderated. Keep comments relevant to the article. Remarks containing abusive and obscene language, personal attacks of any kind or promotion will be removed and the user banned. Final decision will be at the discretion of the Taipei Times.