Chinese exile launches fourth book about AIDS epidemic in China
Gao Yaojie (高耀潔), an exiled Chinese obstetrician who has dedicated herself to exposing the problem of HIV/AIDS caused by blood-selling in China, has published her fourth book on the health crisis and chose Taipei to hold the book launch yesterday.
Gao, who now lives in the US, first uncovered the problem of the so-called "plasma economy" and the tragedy it caused in China in the late 1990s.
During her investigation she found a large number of peasants from Henan Province were persuaded by local officials to sell their blood in the early 1980s.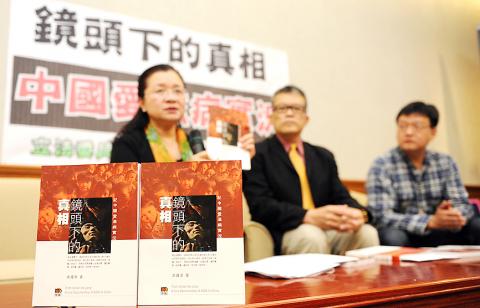 Democratic Progressive Party Legislator Tien Chiu-chin, left, Harmony Home Foundation Taiwan chief executive Hugh Lin, center, and Radio Free Asia Mandarin correspondent Adam Lee hold a press conference in Taipei yesterday, to call attention to the problem of HIV/AIDS caused by people selling their blood in China.
Photo: Liu Hsin-de, Taipei Times
Due to a poor blood handling process, many were infected with HIV.
She worked hard to help the victims whose illness was denied government recognition and care and to publicize the scandal, actions which caused her to be placed under government surveillance and eventually driven out of China in 2009.
Truth Under the Lens: A Live Documentary of AIDS in China is a collection of photos, depicting the HIV patients' lives and sufferings and making a powerful statement about the Chinese government led by Chinese Premier Li Keqiang (李克強), who at the time of the "plasma economy" served as Henan Province Communist Party secretary.
"The book is a testimony to my 17 years of dedicated work recording China's HIV/AIDS epidemic. Every photo deals with an AIDS patient's blood and tears; every picture would pain people with a noble heart," Gao said in a video recording.
At 85 and afflicted with illness, Gao could not be present in person.
"Not one official has been held accountable for the epidemic. All they do is try to cover up its spread. I've always abhorred this kind of deed," she said.
Democratic Progressive Party Legislator Tien Chiu-chin (田秋堇) said the Chinese government's persecution of Gao was intended as a warning to others who dare to show interests in probing the matter.
"Not only did the Chinese authorities fail to help the victims, it also oppressed those who offered support to them," Tien said.
Hugh Lin (林郁修), the chief executive of Harmony Home Foundation Taiwan, an organization that helps set up shelters in China for abandoned HIV-positive children, said many of the children they work with are denied the opportunity to attend school.
He added that since helathcare in China is restricted by household registration rules, many from the countryside, where healthcare is generally less developed, have to pay high prices if they choose to seek medical attention in the cities.
While the Chinese government's evasive attitude has been castigated, Adam Lee (李志德), the Mandarin correspondent of Radio Free Asia, expressed his concern over the self-censorship of the Taiwanese media that is becoming more evident in the past few years.
"Reports about China on issues considered as sensitive are diminishing. China's political influence in Taiwanese media is palpable and getting more serious," Lee said.
"It's been said that Mainland Affairs Council Minister Wang Yu-chi (王郁琦) is meeting up with the Taiwan Affairs Office director early next year to discuss the mutual establishment of representative offices and permanent offices for news agencies. I hope that Wang does not rush into signing any agreement with China concerning the press," he said, adding that since many foreign news outlets are also experiencing China's suppression, "it is a good opportunity for us to forge an alliance against China's encroachment upon media freedom."
Comments will be moderated. Keep comments relevant to the article. Remarks containing abusive and obscene language, personal attacks of any kind or promotion will be removed and the user banned. Final decision will be at the discretion of the Taipei Times.