KMT has no plans to reinstate Wang's party membership
A Chinese Nationalist Party (KMT) official yesterday ruled out the possibility of the party rescinding its decision to revoke the membership of Legislative Speaker Wang Jin-pyng (王金平), saying it will be up to the courts to rule on the dispute.
The official, who spoke on condition of anonymity, said that the deadline for Wang to appeal had expired and that the matter is now in the hands of the courts, which will rule on Wang's lawsuit seeking reinstatement.
The official made the comment after Wang hinted that he expects to return to the party at the request of rank-and-file delegates at the KMT's 19th National Congress, which will be held on Sunday.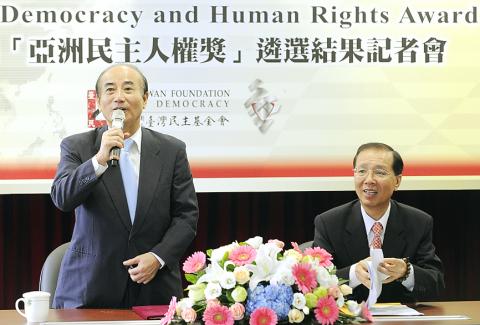 Legislative Speaker Wang Jin-pyng, left, announces Thailand-based Karen Human Rights Group as the winner of the Taiwan Foundation for Democracy's 2013 Asia Democracy and Human Rights Award in Taipei yesterday.
Photo: Chen Chih-chu, Taipei Times
According to media reports, an unknown number of delegates are expected to sign a petition to demand the reinstatement of Wang, whose membership was revoked on Sept. 11 for his role in an alleged case of improper lobbying, although he later received a court injunction allowing him to retain his membership pending the result of a court trial.
When asked to comment yesterday, Wang said that reinstatement "would be my expectation."
He would not be drawn on whether, if reinstated, he would withdraw his lawsuit against the KMT, saying that he would not answer hypothetical questions.
However, the prospect of reinstatement was immediately shot down by the KMT official, who said "that road is closed," as the deadline for an appeal expired on Oct. 14.
Instead of filing an appeal, Wang took the party to court, claiming that he was unfairly treated when the KMT's 15-member Central Evaluation and Discipline Committee decided to revoke his membership on the grounds he had harmed the party's reputation.
Keeping his membership is key to holding on to his job as head of the legislature, as Wang is a KMT legislator-at-large who serves only at the party's pleasure.
Comments will be moderated. Keep comments relevant to the article. Remarks containing abusive and obscene language, personal attacks of any kind or promotion will be removed and the user banned. Final decision will be at the discretion of the Taipei Times.