Protesters demand Formosa compensation
A local self-help association raised up a coffin at the gates of Formosa Petrochemical Corp's naphtha cracker in Yunlin County's Mailiao Township (麥寮) yesterday to protest the company failing to compensate for fish farms they say it is responsible for destroying.
The protesters said that Formosa Petrochemical overpumped the sand west of their fish farms on the southern bank of the Jhuoshuei River (濁水溪) during construction projects in 1995 and 1996, destroying about 364 hectares of land that 82 association members had rented from the government to set up their farms.
Holding white flags that read: "A father's debt should be returned by his son" and scattering paper money in the air, the demonstrators said that late Formosa Petrochemical chairman Wang Yung-ching (王永慶) had signed a memorandum of understanding with the association on June 4, 1994, promising to pay damages to those whose fish farms were affected by the company's construction projects.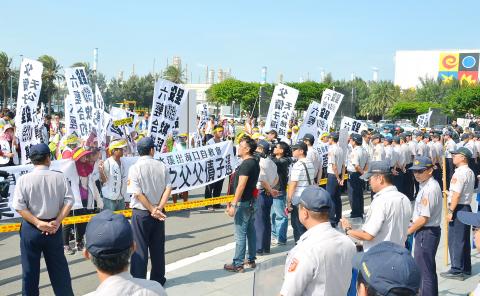 Members of a Jhuoshuei River estuary fish farmers' self-help association protest outside Formosa Petrochemical Corp's naphtha cracker in Mailiao Township, Yunlin County, yesterday, demanding compensation for damage that they blame on the company.
Photo: CNA
However, the company has not and is still unwilling to compensate the farm owners, the protesters said.
Association chairman Chou Lien-fu (周連福) said the fish farms were destroyed because the company had pumped sand too deeply and too close to their land, adding that since there is no deadline for adhering to the memorandum of understanding, the farm owners are still hoping that Formosa Petrochemical will honor its promise.
The crowd of protesters clashed with police who tried to prevent them from lifting up the coffin and pushing through gates.
According to one of the company's managers, the fish farms were actually destroyed by Typhoon Herb in 1996, and Formosa Petrochemical has commissioned research facilities to assess the situation and proved that the damage has nothing to do with its sand-pumping operation.
The company said it is unreasonable that the association is asking for NT$1 billion (US$34 million) in compensation, when damage assessments carried out in 1996 already showed that the sand-pumping did not harm the fish farms.
Given this, it is refusing to agree to the association's demands and suggested that the farm owners take the case to court if they want to pursue the matter further.
Comments will be moderated. Keep comments relevant to the article. Remarks containing abusive and obscene language, personal attacks of any kind or promotion will be removed and the user banned. Final decision will be at the discretion of the Taipei Times.