Academics urge action on World Heritage sites
Scientists and academics called for renewed efforts to protect the nation's unique natural landscapes and distinct cultural traditions to set the foundation for the nation's bid to have them included in the UN's list of World Heritage sites.
Geography and natural resources professor Wang Hsin (王鑫) said Taiwan is blessed with a wide diversity of ecological environments and geological terrains, such as its coasts, lowland hills, high mountains, volcanoes, forests, wetlands and coral reefs.
"Many of these are unique in the world, and are found only in Taiwan," he said.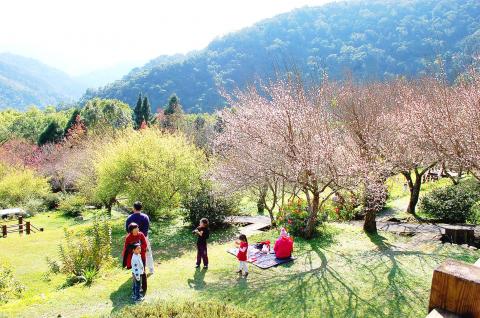 Parents and children admire the scenery while resting near blossoming plum trees in the Cilan Forest Recreation Area in Yilan County's Datong Township on Jan. 19.
Photo: Yang I-min, Taipei Times
However, because of "political interference from China at the United Nations level, these have yet to be listed among the World Heritage sites," he said.
Wang, a member of the Council for Cultural Affairs' World Heritage Promotion Committee, was speaking at a seminar on the "UN, Taiwan, and Natural World Heritage Sites" organized by the Taiwan New Century Foundation on Saturday in Taipei.
Since the committee — composed of scientists and other experts — was formed in 2009, it has chosen 17 natural landscapes and cultural sites around the nation as leading candidates for World Heritage site listing.
They include some of the best-known mountain regions: Yushan National Park, the Datun Volcano Group (大屯火山群), Taroko National Park and Cilan Mountain Cypress Forest Reserve (棲蘭山檜木林).
The candidates for cultural heritage sites are the Alishan Forest Railway, Tamsui's Fort San Domingo, the Japanese-era Old Mountain Railway of Miaoli County, Kinmen Battlefield Culture and the Beinan Relic Site.
"Even though there are international political barriers, and it may be a long road, we must continue to engage in this work," he said.
"I encourage more interested individuals and civic groups to participate in the various conferences held by UNESCO and the World Heritage Convention Committee, so they can get to know more about our world-class natural landscapes and cultural heritage sites. All of them are unique and cannot be found anywhere else," he said.
Wang said Taiwanese can also set up their own recognition system and establish Taiwan's own heritage sites.
"It is also important to show the world our success in natural resource conservation, with our national parks and forest conservation programs," he said.
"The effort to join UNESCO's listing is also a movement to promote local communities' identity, and for individuals and civic groups to work together to protect and take pride in their natural environment and cultural traditions," Wang said.
Comments will be moderated. Keep comments relevant to the article. Remarks containing abusive and obscene language, personal attacks of any kind or promotion will be removed and the user banned. Final decision will be at the discretion of the Taipei Times.