Activists want no referendum and no nuclear plant
During the first day of the new legislative session yesterday, anti-nuclear power environmentalists again gathered in front of the Legislative Yuan in Taipei, calling on legislators to stop the construction of the Fourth Nuclear Power Plant in Gongliao (貢寮), New Taipei City (新北市), and withdraw the referendum proposal on the plant.
Taiwan Environmental Protection Union founding chairman Shih Hsin-min (施信民) said the referendum proposal suggested by Chinese Nationalist Party (KMT) Legislator Lee Ching-hua (李慶華) is aimed at exploiting the "problematic" Referendum Act (公民投票法), ignoring public opinion and supporting the Cabinet's will of allowing the plant to go into operation.
Although Lee last week publicly announced that he wished to withdraw the proposal, Shih said the proposal has already passed the first reading and is scheduled for a second reading in this session, so even if Lee claims to want to withdraw the proposal, he still has to go through procedures to make it effective.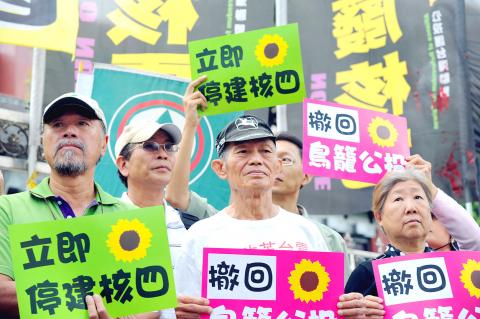 Anti-nuclear campaigners hold signs in front of the Legislative Yuan in Taipei yesterday, calling on lawmakers to stop construction of the Fourth Nuclear Power Plant in New Taipei City's Gongliao District and scrap a "loaded" referendum on the plant.
Photo: CNA
"Lee should finish going through the procedures as soon as possible. The Legislative Yuan should acknowledge the public's wish to bring a halt to the Fourth Nuclear Power Plant project," he said, urging the KMT caucus not to block the proposal withdrawal.
The protesters said President Ma Ying-jeou's (馬英九) approval rating had already dropped to 9.2 percent and if he does not stop the construction project, it may even plunge lower.
Pan Han-shen (潘翰聲) of the Green Party Taiwan said, ahead of next month's National Day, that "we do not have anything to celebrate, because we have so many nuclear power plants in the nation and Taiwan is the only country that builds nuclear power plants right next to its capital."
Pan said the public is invited to join in a "Fourth Nuclear Power Plant termination" relay walk around the nation, ending at the Presidential Office on Jan. 1.
Comments will be moderated. Keep comments relevant to the article. Remarks containing abusive and obscene language, personal attacks of any kind or promotion will be removed and the user banned. Final decision will be at the discretion of the Taipei Times.