Guanshan gets top CNN rating
'STAR DESTINATION': The small hill in Kenting National Park, which has been known since the Qing Dynasty, offers one of the best sunset views in the world, CNN said
A seaside hill known as Guanshan (關山) in Kenting National Park earlier this week made it onto CNN's list of "12 superb sunset spots around the world," published in the travel section of the network's Web site.
Long a popular place for locals to enjoy the sunset, Guanshan is a 152m high hill a short distance outside Hengchun (恆春), overlooking the Taiwan Strait.
Among CNN's top spots to view the sunset are destinations like the Grand Canyon in the US, Uluru (Ayers Rock) in Australia, Maui Island in Hawaii, Oia on the island of Santorini in Greece, Phnom Bakheng temple in Angkor, Cambodia, and West Lake in Hangzhou, China.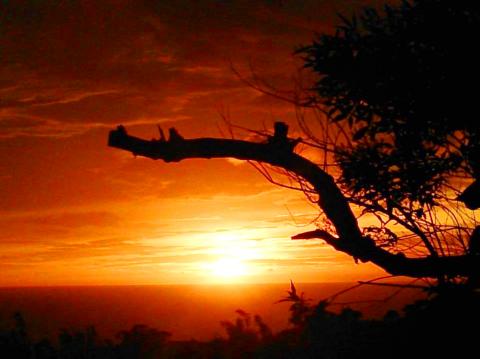 The sun sets off Pingtung County on Wednesday evening. US cable news channel CNN has listed Guanshan on the Hengchun Peninsula as one of the best places in the world from which to view a sunset.
Photo: Tsai Tsung-hsien, Taipei Times
The CNN article, published on Monday, said of Guanshan: "A Guanshan sunset is one of the great attractions of southern Taiwan … it offers the best viewpoint from which to see the Hengchun Peninsula, a popular tourist spot in the south of the island."
"The peninsula has no train or highway, making it a natural paradise. What it has is beautiful hot springs and forests. The pavilion adjacent to Fude Temple (Gaoshanyen) on Guanshan Trail offers the best viewing point for sunsets," it added.
Looking north from Gaoshanyen Fude Temple (高山巖福德宮), one can see Dapingding Hill (大平頂) and its adjacent fishing village.
Turning eastward, one sees the beautiful coastal landscape of Kenting National Park's South Bay (南灣), Oluanpi (鵝鑾鼻) and Long-luan Lake (龍鑾潭).
On Guanshan, a raised terrain of formerly submerged coral reefs and marine limestone, the best place to view the colorful sunset is the "Sunset Platform" erected by the national park authorities, according to residents.
According to a resident and proprietor of a nearby restaurant, Tien Te-cheng (田德成), the best time to enjoy the scene of the sun slowly setting into the sea is from June to October.
"When a typhoon is approaching, it is a good opportunity to catch the clouds glowing brilliant red and orange during sunset [known as 'fire-burning clouds' (火燒雲) in Taiwan]," he said.
He added that during the Qing Dynasty, "Sunset at Guanshan" (關山夕照) was listed among eight popular scenic spots in the Hengchun region.
Kenting National Park Headquarters head Chen Chen-jung (陳貞蓉) said that Guanshan is not a big place and receives a huge number of tourists during the peak season.
"Due to concerns about the environmental impact, we will not add more facilities, nor hold new promotional activities," she said.
"When tourist visits are concentrated in a few 'star destinations,' it is not good for the local ecological environment," she added.
Comments will be moderated. Keep comments relevant to the article. Remarks containing abusive and obscene language, personal attacks of any kind or promotion will be removed and the user banned. Final decision will be at the discretion of the Taipei Times.