FEATURE: Mother's drive aids her family's survival
ONE LOVE: A rice-ball vendor has been running her stand while helping her comatose daughter and has succeeded in providing for her family, and also finding peace of mind
Eleven years and 200,750km — these numbers may mean nothing to most people, but as far as Peng Kui-ying (彭桂英), the owner of a rice-ball stand in front of the post office in Miaoli County's Tongsiao Township (通宵) is concerned, they represent unwavering effort and an indomitable spirit.
Peng has spent the past 11 years driving a total of 200,750km to visit and attend to her comatose daughter, while manning her food stand to make ends meet.
Having parted ways with her husband while still in her youth, Peng shouldered the burden of providing for her family early on, and made do by selling rice balls.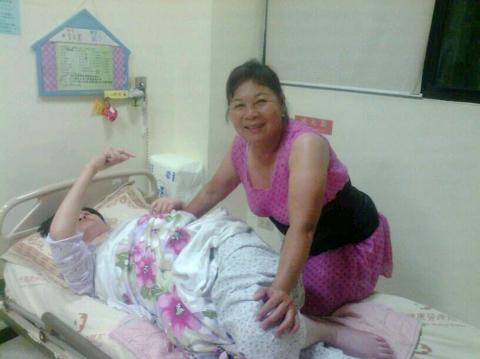 Single mother Peng Kui-ying massages her daughter, who has been comatose for 11 years, at a nursing home on Friday last week. Peng drives about 50km from Tongsiao Township in Miaoli County to Miaoli City and back every morning to give her daughter a massage.
Photo: Lin Hsin-han, Taipei Times
However, a car accident 11 years ago left her then-20-year-old daughter, Lee Chia-hui (李家慧), in a coma. Peng said she had hired a migrant worker to take care of Lee, but the caregiver disappeared after five years.
Peng then placed Lee in the care of the Da Chuan Hospital's affiliated nursing home in Miaoli City, but she worried that her daughter might wake up one day unable to use her limbs due to a long period of neglect.
Peng then started driving to the nursing home every day to massage her daughter's limbs.
Making only a passing comment on the costs of her daughter's care, Peng said that the medical and fuel costs totaled about NT$40,000 per month.
Peng said at first she traveled to her daughter after finishing work between 8pm and 9pm every day, but found that it did not work well because when she returned home late at night, she would get only a few hours' sleep before having to get up to prepare the materials needed for her rice-ball stand.
"I found myself dozing off while I was driving," Peng said, adding that it was a sign that her schedule was not viable in the long term.
She changed her routine and now gets up at about 1am to prepare the ingredients for the rice balls and then drives 25km to the nursing home to massage Lee's limbs, before hurrying back to Tongsiao at about 5am to open her business — a schedule she has kept for the past six years.
Peng said she had not always been optimistic and so accepting of her situation, and the first couple of years after the accident she cried as she drove to the nursing home.
"I kept thinking why I alone had to endure such a fate, while others could sleep soundly without a care," Peng said, adding that eventually she came to accept her situation.
"Life comes and goes as it wills, and mortals can only try to shoulder whatever burden life decides to place on their shoulders," Peng said.
She added that in the end, one can only rely on getting by on one's own and should not expect to get assistance from other people.
Even so, Peng still occasionally experiences bouts of overwhelming sadness, during which times she finds somewhere quiet or goes into a restroom to cry it out. She said with a small laugh that as a merchant one has to keep up appearances and have a cheerful demeanor, or she would have no customers.
Meanwhile, Peng's indomitable spirit has moved the nurses at the nursing home.
The three nurses, Yeh Yi-ting (葉依婷), Chen Chien-hui (陳芊卉) and Chen Mei-wen (陳美雯), said that Peng comes to the nursing home every day, rain or shine, and treated them as if they were her own daughters.
Sometimes when the weather was not looking good they sent her texts and told her not to drive all the way, the nurses said, but Peng never wavered and still made her visit.
They added they hope that in the process of taking care of Lee, Peng would also learn how to let go of the past and start making plans for her own future.
However, Peng said that she would take care of her daughter until "the day that I cannot move anymore."
"It is a physically, mentally and financially draining task, but she is my daughter," Peng said.
She added that over the years her daughter's condition seems to have improved and Lee is now capable of moving her right hand.
Peng said that for her, just seeing her daughter is all the support that she needs to keep her motivated to carry on.
Comments will be moderated. Keep comments relevant to the article. Remarks containing abusive and obscene language, personal attacks of any kind or promotion will be removed and the user banned. Final decision will be at the discretion of the Taipei Times.