Charity group seeks to streamline food bank's efforts
In an attempt to combat unequal distribution and wasting of resources, the Taiwan Fund for Children and Families (TFCF) yesterday launched a platform for coordinating food banks, while calling on more people to join the program.
Although many non-governmental groups and businesses have set up various food bank organizations, the TFCF's social resources department director Yu Shu-chen (游淑貞) told a press conference in Taipei that many food items donated to food banks go to waste because there is no platform for coordinating efforts.
"It's very saddening to see food being wasted and thrown away, while there are people out there starving," Yu said. "This is why the TFCF has decided to create a platform to coordinate efforts from different charitable organizations and businesses providing food to those in need."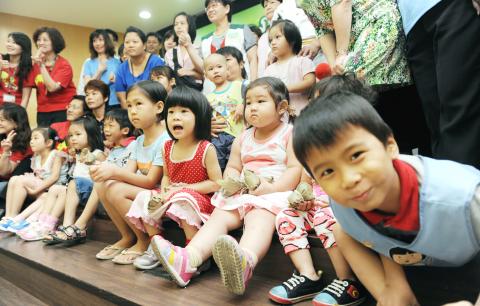 Children and adults pose for a photograph at a press conference in Taipei yesterday organized by the Taiwan Fund for Children and Families.
Photo: Lo Pei-der, Taipei Times
"There's no doubt that Taiwanese are full of love. The TFCF is now supporting more than 110,000 children in more than 25,000 families with donations of food, necessities or money," TFCF executive director Ho Su-chiu (何素秋) added.
"Now, we are turning our 68 service stations across the country into platforms for coordinating and distributing food and necessities for families in need who live in communities surrounding each station," Ho said.
A single mother with two children who declined to give her name lauded the concept of a collaborative food bank platform.
"I'm always very worried about making meals for my kids when they come home from school, because I usually get off work pretty late," she said.
"With the charitable meal program that the TFCF has proposed, I would feel more relieved knowing that my kids will have something to eat while I am at work," she added.
Anyone interested in joining the food bank program, either as an individual or as a business, can call the TFCF's toll-free hotline on 0800-078-585.
Comments will be moderated. Keep comments relevant to the article. Remarks containing abusive and obscene language, personal attacks of any kind or promotion will be removed and the user banned. Final decision will be at the discretion of the Taipei Times.