TAIPEI-MANILA ROW: Premier 'sorry' over delayed measures
DECISION: Jiang Yi-huah said it was 'inappropriate' that the measures were announced after the deadline had expired, but denied that the government had changed its stance
The decision by President Ma Ying-jeou's (馬英九) administration at 10am yesterday morning to punish the Philippines for its failure to meet Taipei's demands regarding the killing of a fisherman by Philippine Coast Guard personnel came 10 hours later than the government had promised.
After handing out a 72-hour ultimatum for Manila to positively respond to demands on Sunday at 12am, government officials repeatedly vowed to implement three punitive measures against the Philippines if it failed to meet the deadline.
At a press conference at 10am yesterday, following a National Security Council meeting called by Ma at 7am, Premier Jiang Yi-huah (江宜樺) said he was "sorry" that the government did not adhere to the deadline, but denied any change in the government's stance toward the Philippines' response.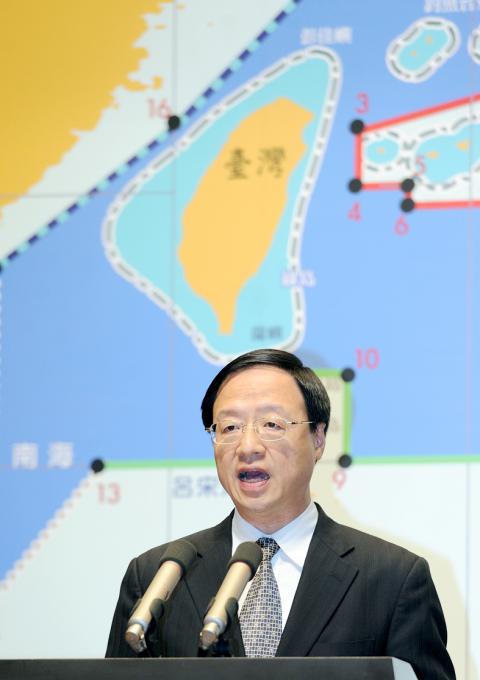 Premier Jiang Yi-huah yesterday announces the second wave of sanctions against the Philippines in retaliation for the killing of a Taiwanese fisherman on May 9.
Photo: Liao Chen-huei, Taipei Times
It was "inappropriate" that the punitive measures against the Philippines were announced after midnight on Tuesday, Jiang said.
Manila's response, delivered by Manila Economic and Culture Office Managing Director Antonio Basilio to Minister of Foreign Affairs David Lin (林永樂) at 8pm on Tuesday, was subject to revisions after five hours of negotiations.
The response was presented in a letter addressed to Lin by Basilio.
Jiang said the content of the letter was finalized at 11:30pm, after both Lin and Basilio had consulted with government officials.
However, the Ministry of Foreign Affairs staff took extra time to complete the text, both in English and in Chinese, so the meeting continued past the deadline, Jiang said.
The press conference following the negotiations was held at 1am on Wednesday, during which Lin said that Taipei took Manila's response as "positive," but that there were some points that "needed to be clarified."
Lin said at that time that the government would have an inter-agency meeting to examine whether the response met the government's expectations.
However, Jiang said he knew as soon as the letter was finalized that the response would be "unsatisfactory" to the government.
The Ministry of Foreign Affairs said it had updated both Ma and Jiang in real time during the negotiations with Basilio.
"Because the meeting finished very late, we had no time to have a National Security Council meeting to examine the response," Jiang said.
Comments will be moderated. Keep comments relevant to the article. Remarks containing abusive and obscene language, personal attacks of any kind or promotion will be removed and the user banned. Final decision will be at the discretion of the Taipei Times.