Taichung Prison reveals former president's new cell
An area previously set aside at Taichung Prison's Pei Teh Hospital for the incarceration of former first lady Wu Shu-jen (吳淑珍) has become an exclusive area for her husband, former president Chen Shui-bian (陳水扁), during the extent of his stay at the prison, Taichung Prison authorities said.
Chen, serving a 20-year jail sentence for corruption, arrived at the prison's hospital in Taichung at 7:20am on Friday after leaving Taipei Veterans General Hospital in Taipei at 5:30am.
Taichung Prison authorities said the area was set aside by the Ministry of Justice for Wu in the event she was to serve a jail sentence on bribery charges.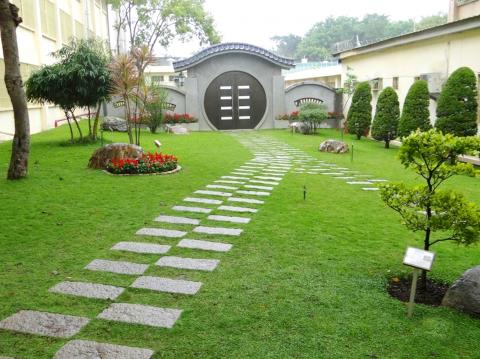 Taichung Prison's Pei Teh Hospital is shown in an undated handout photo.
Photo: CNA, provided by the Ministry of Justice
In 2011, the Taichung Prison authorities and China Medical University medical experts declared that Wu — who is paralyzed from the waist down — is unfit for prison and charged her son, Chen Chih-chung (陳致中), with her care while putting her under house arrest and barring her from leaving the country.
Taichung Prison deputy warden Chen Chin-feng (陳金鋒) said the entire area measures 243 ping (803m2), with the room housing the former president measuring 9.2 ping. In Taipei Prison, Chen Shui-bian had previously shared a 1.3 ping cell with another inmate.
Chen Chin-feng said the ward housing Chen Shui-bian at Pei Teh Hospital has a desk and bookshelf as requested.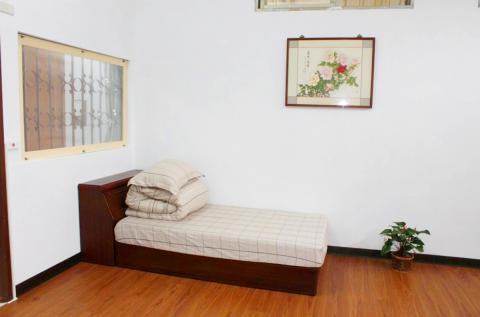 A bed in Taichung Prison's Pei Teh Hospital is shown in an undated handout photo.
Photo: CNA, provided by the Ministry of Justice
There are plants in the room and the walls have been decorated with paintings and examples of calligraphy, Chen Chin-feng said, adding that it also contained a fold-up bed for use by medical personnel.
Taichung Prison authorities said that the Pei-te Hospital has formed a medical team focusing on Chen Shui-bian, adding that the team included doctors from China Medical University Hospital and the Tai-chung Veterans General Hospital.
The Pei Teh Hospital has all the necessary departments and staff to care for prison inmates, as well as having a few other specialized areas, prison authorities said.
Aside from the recuperation ward Chen Shui-bian has been assigned to, the hospital has a ward for psychiatric patients, a tuberculosis ward, a residential area for the terminally ill with 68 beds, blood analysis labs with 15 beds available for patients on dialysis, two surgical operating theaters and a common outpatient area.
The prison said it would not limit how many times Chen Shui-bian receives visitors, nor how long they can stay.
Chen Chin-feng also said that there is about 100 ping of empty space in the facility for Chen Shui-bian to exercise, adding that the former president may watch television and read newspapers.
Deputy Minister of Justice Chen Ming-tang (陳明堂) said Chen Shui-bian is the first prisoner in the nation's history to have such facilities.
Comments will be moderated. Keep comments relevant to the article. Remarks containing abusive and obscene language, personal attacks of any kind or promotion will be removed and the user banned. Final decision will be at the discretion of the Taipei Times.