New 70cm stamp shows 5m embroidered cloth
Chunghwa Post is to unveil a new set of stamps today featuring embroidery work from China's Qing Dynasty collected by the National Museum of History.
The state-run postal firm said one of the stamps in the set, which is 70cm in length, shows an entire 5m long traditional cloth embroidered with flower and bird patterns.
It is also the longest stamp the firm has ever issued.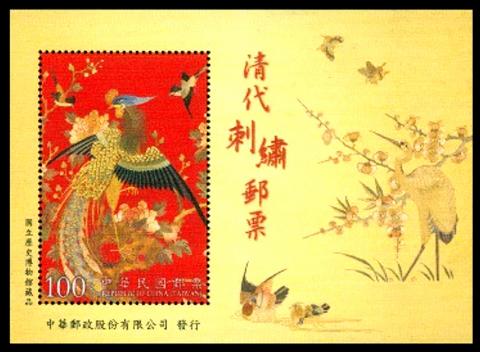 A postage stamp depicting Qing Dynasty embroidery is shown in a photo provided by Chunghwa Post yesterday. Post offices are offering special discounts on philately items from now until the end of the month.
Photo: Chen Hsien-i, Taipei Times, courtesy of Chunghwa Post
The postage value of the 70cm stamp, which is about 20 times the length of a regular stamp, is NT$50.
The costs of the stamp sets vary from NT$200 to NT$250, depending on the type.
Only 200,000 of the 70cm stamps will be available, it said.
Aside from the long stamps, five normal-sized stamps, as well as a miniature sheet featuring the embroidery collection, is also to be released.
A miniature sheet, or a souvenir sheet, refers to postage stamps still attached to the sheet on which they were printed. They are often issued to commemorate a special event or philately exhibition.
The postage for each of the regular-size stamps and the miniature sheet is NT$10 and NT$100 respectively.
Meanwhile, the National Museum of History is also to display the original embroidered cloth that inspired the creation of the 70cm stamp from today until April 7.
According to Chunghwa Post, a traditional embroidered cloth was mainly used to decorate the main halls of a house to celebrate a wedding or a family members' birthday.
The cloth was about 5m in length and was richly embroidered with patterns of flowers, birds, grasses, trees, clouds and rocks.
Comments will be moderated. Keep comments relevant to the article. Remarks containing abusive and obscene language, personal attacks of any kind or promotion will be removed and the user banned. Final decision will be at the discretion of the Taipei Times.