Nuclear Power Debate: Taipower to take nuclear waste action
The raging controversy over the fate of the Fourth Nuclear Power Plant in New Taipei City's (新北市) Gongliao District (貢寮) has sparked public concerns over nuclear waste disposal, but Taiwan Power Co (Taipower) said on Monday that it would do its best to deal with the final management of nuclear waste.
New Taipei City Mayor Eric Chu (朱立倫) said the disposal of nuclear waste is a headache, because the city currently has problems dealing with the waste that has already been created.
"If Taiwan cannot deal with the problem of disposing nuclear waste, how can the country use nuclear energy? If nuclear waste continues being stockpiled in the city, would it be acceptable to local residents?" Chu asked.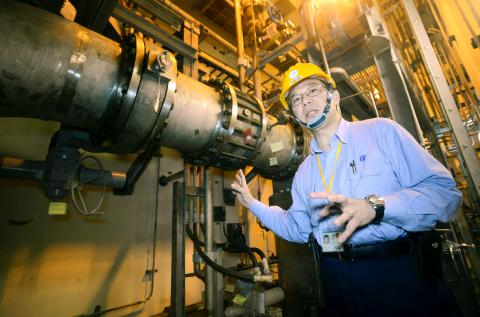 Shin Jun, a shift manager at the Longmen Nuclear Power Plant, explains its water pump system yesterday in Gongliao District, New Taipei City.
Photo: Sam Yeh, AFP
Chai Fu-feng (蔡富豐), a Taipower spokesman, said that low-level radioactive waste has not only been produced by nuclear power plants, but also by medical and related research institutes.
He said that while the schedule for selecting sites for the disposal of nuclear waste has been postponed, Taipower would strive to seek a breakthrough in the matter.
Meanwhile, the Atomic Energy Council (AEC) has asked Taipower to complete the selection of sites for nuclear disposal facilities by 2016 and to complete construction of the facilities by 2021. Otherwise, the AEC would not rule out taking proper control measures, including ordering a halt to operations at nuclear power plants.
AEC Deputy Minister Chou Yuan-ching (周源卿) said the council is duty-bound to ensure nuclear safety.
Equipment and facilities in Taiwan's nuclear power plants were largely imported from the US, and the AEC has formulated regulations governing the establishment of nuclear power facilities, nuclear refueling and granting of operating licenses based on international standards and rules, Chou said.
After Japan's Fukushima Dai-ichi nuclear disaster in 2011, the AEC stepped up inspections of nuclear power plants by sending two specialists to carry out safety checks every two weeks, Chou added.
The Ministry of Economic Affairs has chosen Wuciou Island (烏坵) in Kinmen County and Daren Township (達仁) in Taitung County as possible sites for storage facilities for low-level radioactive waste. The ministry plans to carry out an environmental assessment and to hold local referendums to decide on a suitable site.
Over the past few years, the AEC has leveled fines ranging from NT$100,000 (US$3,370) to NT$1 million on Taipower for violating guidelines on how nuclear waste should be stored.
Comments will be moderated. Keep comments relevant to the article. Remarks containing abusive and obscene language, personal attacks of any kind or promotion will be removed and the user banned. Final decision will be at the discretion of the Taipei Times.