Nuclear Power Debate: Celebrities voice nuclear concerns
Following a series of initiatives launched by Taiwanese filmmakers protesting the construction of the Fourth Nuclear Power Plant, a number of celebrities have recently added their support to the anti-nuclear movement while voicing their concerns over nuclear safety.
In a message shared by the "Mom Loves Taiwan" anti-nuclear alliance earlier this week, Taiwanese supermodel Lin Chi-ling (林志玲), who is working in China, said: "The most imperative thing for human beings is not to be self-centered and indifferent, learning to shoulder responsibility has become the lesson for this generation. Let us work together."
After her remarks attracted public attention, Lin renewed her calls for joint efforts in dealing with the issue of nuclear energy in a video on Wednesday.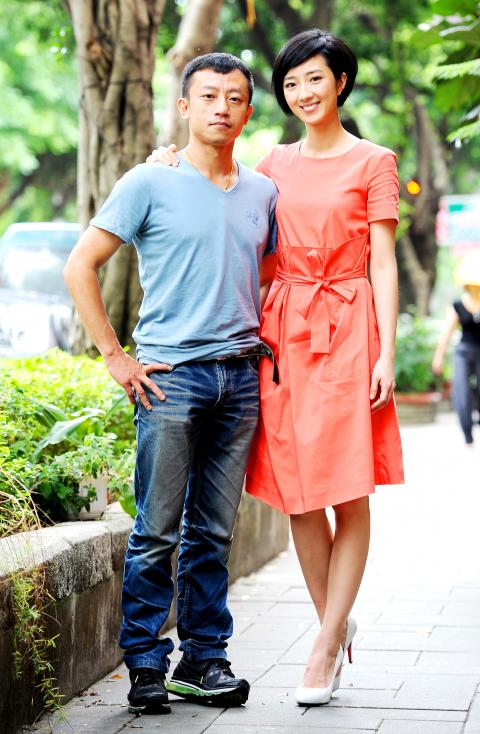 Movie director Yang Ya-che and actress Kwai Lun-mei, who have voiced concerns over nuclear safety are pictured on June 30 last year.
Photo: Sung Chih-hsiung, Taipei Times
"While many of you might have limited knowledge of the construction of nuclear power plants and other [nuclear-related] terminology, I believe that all of us, if given the right to choose, would never let anything bad happen to this nation we call home, to our friends or to our loved ones," Lin said in the video.
Following a series of natural catastrophes that have affected the nation, it has become an undeniable truth that mankind can never control or predict nature, or rescue others in the event of disasters, Lin said.
"I hope all of us can take responsibility for ourselves, today and tomorrow, as well as for future generations," Lin said.
"Let us learn to shoulder responsibility as we hold the right to choose in our hands, because as you know, the most invaluable gift one can ever receive is the ability to live a healthy life," she added.
Meanwhile, Taiwanese actress Kwai Lun-mei (桂綸鎂), who won the Golden Horse Award for best actress last year, also expressed her concerns over nuclear safety on Wednesday, when asked to comment on issues pertaining to the construction of the Fourth Nuclear Power Plant.
"Anything that risks putting our homeland in danger should be removed. I hope more people could show concern for this land," Kwai said.
Echoing Kwai's viewpoint, Ella Chen (陳嘉樺), a member of Taiwanese girl band S.H.E, said that since there is more than one way to generate electricity, nuclear energy was not the only option and the nation would be better off without it.
These anti-nuclear remarks followed a flash mob initiated by film directors Ko I-chen (柯一正) and several other directors, on May 28 last year, on Ketagalan Boulevard in front of the Presidential Office, in which about 60 people formed the Chinese character ren (人, human being) for 30 seconds while shouting: "I am a human being, I oppose nuclear power."
Ko's initiative has spurred scores of individuals in the artistic industry to follow suit, including Taiwanese directors and actors Cheng Yu-chieh (鄭有傑) and Jag Huang (黃健瑋), who voiced their opposition to nuclear power by producing a number of short films with an anti-nuclear sentiment.
Filmmaker Yang Ya-che, who was among a group of directors walking the red carpet at the 49th Golden Horse Awards Ceremony last year wearing anti-nuclear stickers, has also recently released a short film that aims to raise nuclear awareness among children.
Comments will be moderated. Keep comments relevant to the article. Remarks containing abusive and obscene language, personal attacks of any kind or promotion will be removed and the user banned. Final decision will be at the discretion of the Taipei Times.