FEATURE: Taitung 'bombs' people to celebrate festival
For many people, it may be the most unbelievable way to celebrate a holiday, but for the residents of Taitung, the Bombing of Master Handan (炸寒單) — throwing firecrackers at men representing the mythical figure Handan — has become the signature event in celebrating the Lantern Festival.
On Saturday night, thousands of people attending a Lantern Festival concert turned around and cheered as the Handan procession entered Taitung's main square.
They quickly gathered in a circle around a bamboo sedan and the procession of Handan men, who were wearing only red shorts and had their faces and heads covered with towels, goggles and scarves.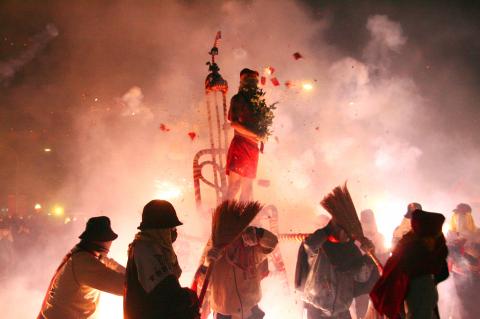 Revelers participate in the traditional bombing of Master Handan at a public square in Taitung on Saturday.
Photo: Loa Iok-sin, Taipei Times
"Please stay back. You might get hurt by firecrackers," shouted staffers from Hsuanwu Temple (玄武堂), one of the local temples that organize the Bombing Master Handan events.
After a simple religious ritual, the first man acting as Handan got on the sedan and staffers carried him around the square to mark the boundaries for the event.
Suddenly, people from the temple began throwing firecrackers at the human Handan as he continued to be paraded in a circle.
Overwhelmed by the noise and smoke from the firecrackers, some onlookers ran away, while those who came prepared — wearing gloves, goggles, hats, jackets and earplugs — stayed on to enjoy the spectacle. Still, from time to time, even those with protective wear had to move to get a breath of fresh air or dodge tiny pieces of firecrackers.
After a few laps around the square, the "bombing" was halted to give the man acting as Handan a break, get some air and a drink of water before continuing.
Each bombing session lasted for about 5 to 10 minutes, and when each was finished, the human Handan raised his hands to show that he was alright, and the crowd greeted him with a round of applause.
"I'm absolutely fine. It was a very exhilarating experience, [I] just felt some tiny pricks of pain [when the firecrackers] hit parts of my body," Chen Tse-ying (陳澤瑩), one of the men who acted as Master Handan, said after finishing his rounds. "I volunteered for it, because I think it's important to carry on the tradition."
Chao Shih-wei (趙世偉), the public relations director for Hsuanwu Temple who has acted as Master Handan several times, shared his experience.
"When you're up there getting 'bombed,' it hurts at first, but after a while, you just feel numb," he said. "What's really scary is not the firecrackers, it's the smoke. The smoke is so thick that sometimes you can't breathe at all."
To prevent being choked by the smoke, Chao said it was important to keep the mouth and nose covered.
"Also, don't forget the earplugs — a man lost his hearing in one ear because he dropped one of his earplugs by accident during the bombing and didn't realize it," Chao added.
"I don't know if the practice [Bombing Master Handan] originated in Taitung, but as far as I know, we are the only place that carries on the tradition," Lee Chien-chih (李建智), independent Taitung County Councilor and head of Hsuanwu Temple, told the Taipei Times in an interview.
"Legend has it that Master Handan was a general named Zhao Gongming (趙公明) during the Shang Dynasty, who was made the leader of the five gods of wealth after his death," Lee said.
"During his lifetime, he was known to be afraid of the cold, and his heartbeat would accelerate when it was cold. This is why people throw firecrackers at him during religious processions, to keep him warm in the hope that if he is happy, he will bless the people," he said.
Bombing Master Handan used to be only part of a divine parade to celebrate the Lantern Festival, but it became so popular that for the past 60 years, it has been held separately and has become a signature event of the festival in Taitung, he said.
Lee also talked about the origin of the name Handan. He said that the most common way to write the two-character word is handan, with han (寒) meaning "cold" and dan (單) meaning "single," but his research shows that the second character should be written as dan (丹) meaning "heart" — in short, "one who often feels cold at heart," Lee said.
However, since most people — including government authorities promoting the event — have chosen the former, "we just go along with it," he said.
Huang Chao-liang (黃朝亮), a native of Taitung and a filmmaker who is planning to make a movie about bombing Handan, cited four reasons why people take on the role of Handan.
Some want Master Handan to grant them fortune or wealth, while others do it as a way to expiate their guilt or to return a favor that Master Handan has granted them," Huang said.
"The tradition was brought by people who migrated from the west to Taitung generations ago, but it has disappeared in the western part of the country, while we have kept it alive here," he said.
The tradition has also attracted foreign residents, such as Mark Jackson from South Africa who has lived in Taiwan for 10 years and Till Di Luniere from Germany who acted as Master Handan in a bombing session reserved for foreigners yesterday.
Both said they were excited to be able to take part in an important local cultural tradition.
A total of 120 foreign exchange student from more than 30 countries served as firecracker throwers during the special session.
"I was very nervous at the beginning, I was so afraid that I might burn my hair or hurt the guy [acting as Master Handan]," said Stephanie Hand, an exchange student from the US. "But after it's over, I feel so excited now."
Vinicius Azevedo from Brazil said he felt neither afraid nor nervous.
"It's just fun, exciting, and I am very happy," he said.
Comments will be moderated. Keep comments relevant to the article. Remarks containing abusive and obscene language, personal attacks of any kind or promotion will be removed and the user banned. Final decision will be at the discretion of the Taipei Times.