Most vermicelli rice noodles not rice at all: survey
Nearly 90 percent of rice vermicelli noodles are not primarily composed of their main ingredient, rice, but are instead a mix of other edible starches, the Consumers' Foundation said yesterday.
According to the Chinese National Standard (CNS) No. 11172, there are two types of rice vermicelli: one are pure vermicelli, which are made of from rice and more than 5 percent crude protein, and the other is mixed rice vermicelli, which are more than 50 percent rice, mixed with flour or other edible starches and have more than 2.5 percent crude protein.
The foundation said a test on 52 types of rice vermicelli conducted by Internet agricultural news platform News & Market from Dec. 29 last year to Jan. 14 this year showed that 45 of the products tested (about 86.5 percent) were comprised of less than 50 percent rice, while 39 products (75 percent) were less than 20 percent rice.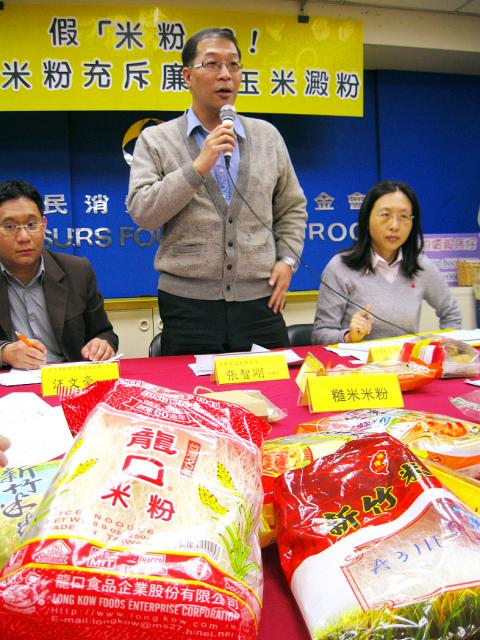 Consumers' Foundation chairman Mark Chang, center, tells reporters in Taipei yesterday about a survey of of rice vermicelli products.
Photo: Hsieh Wen-hua, Taipei Times
Citing the survey, the foundation said that LongKow noodles, a famous brand from Hsinchu, were made up of between 7 percent and 10 percent rice, despite the claim on the packages that they are 90 percent rice.
Three types of noodles from Hsinchu-based Nung-Keng claimed to meet the CNS11172 standard on their packages, but results showed that the noodles were less than 10 percent rice and contained crude protein of between 0.3 percent and 0.5 percent, it said.
Foundation chairman Mark Chang (張智剛) said that the products that do not meet the required standards should be recalled and their manufacturers fined for false labeling.
The Food and Drug Administration said companies should give accurate information about their products, as stipulated by the Act Governing Food Sanitation (食品衛生管理法), and that it would investigate the noodles sold in stores for false labeling.
Comments will be moderated. Keep comments relevant to the article. Remarks containing abusive and obscene language, personal attacks of any kind or promotion will be removed and the user banned. Final decision will be at the discretion of the Taipei Times.