Ma hopes for rights talks with China
HIGH VALUES: Using Taiwan as an example, President Ma Ying-jeou said democracy can thrive in a Chinese culture and that related issues should be taken up
President Ma Ying-jeou (馬英九) said on World Freedom Day yesterday that his administration hopes that dialogue between Taiwan and China can extend beyond economic and trade issues, to encompass human rights and the rule of law.
Taiwan's ultimate goal is to maintain peace in East Asia and allow people on both sides of the Taiwan Strait to pursue the values of freedom and democracy, Ma said at a ceremony in Taipei marking 2013 World Freedom Day.
Ma said that since he took office in 2008, dialogue between Taiwan and China has focused on trade and cultural issues, but he expressed hope that the issues of freedom, democracy, human rights and the rule of law could be taken up in the near future.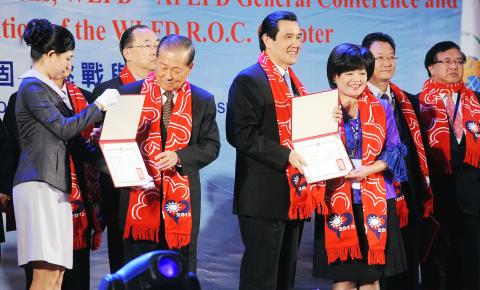 President Ma Ying-jeou, fourth right, and World League for Freedom and Democracy president Yao Eng-chi, third left, present certificates to the league's overseas committee members while celebrating World Freedom Day at the Grand Hotel in Taipei yesterday.
Photo: Liu Hsin-de, Taipei Times
"Although democracy is an imported system, we have fully proved over the past 60 years that this foreign system can actually be cultivated in the soil of Chinese culture," he said, adding that the Republic of China (ROC) has become a fully democratic country.
A sign of that, Ma said, is that Taiwan was again rated a free country in an annual report compiled by Freedom House, a Washington-based human rights advocacy group. Retaining its previous year's rankings, Taiwan received a rating of "one" for political rights and a "two" for civil liberties, the group said in a press statement last week.
In the rankings, one represents the highest level of freedom and seven the least degree of freedom.
Ma also stressed that as a member of the international community, the ROC is determined to be a peacemaker, a provider of humanitarian aid, a promoter of cultural ties, a creator of new technologies and business opportunities, and a standard-bearer at the leading edge of Chinese culture.
"Without peace, freedom and democracy can hardly be achieved," Ma said, adding that Taiwan and China have signed 18 agreements over the past five years, an indication of warming ties.
"I am not saying I'm happy with the 'status quo,' but at least both sides of the Taiwan Strait have found a peaceful solution to conflicts," Ma said.
More than 400 guests from about 60 countries and territories attended the World Freedom Day celebrations, as well as the annual general conference of the World League for Freedom and Democracy and the Asian Pacific League for Freedom and Democracy.
Comments will be moderated. Keep comments relevant to the article. Remarks containing abusive and obscene language, personal attacks of any kind or promotion will be removed and the user banned. Final decision will be at the discretion of the Taipei Times.